Emmerdale icon reveals EVERYTHING about their shock return to the Dales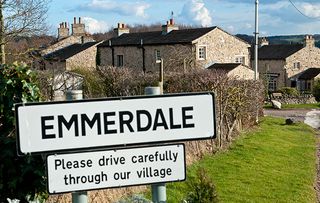 (Image credit: ITV)
This iconic Dales resident will be back in the village very soon…
Ever since actress Lisa Riley made her last appearance as Emmerdale's Mandy Dingle, in 2001, fans have longed to see her return.
Seventeen years later, and Lisa has finally given them what they want. On 7th January, the indomitable Mandy is back in the village, pitching up at the official wedding of Marlon Dingle and Jessie Grant.
Star Lisa Riley, 42, talks about stepping back into Mandy's shoes in Emmerdale…
What has Mandy been up to since we last saw her in 2001?
"She's been living in Southampton, and has a 16 year old child, Vinny. She has a bit of money now, so she's not as downtrodden as she was - although there's still a glimmer of the old Mandy.
"We had a ball getting her costumes, because leopard print is so on trend right now. She's a little bit more glamorous than the mismatch she was before."
Where has she got all her money from?
"Blokes! They always called her the man magnet. She's very confident. That's the case with lots of the Dingle women; they will do quite a lot for money. She has a Chanel bag – or a 'Channel' bag because we don't know if it's real or fake."
How does she arrive?
"I'm a silhouette. You probably won't know it's me until I open my mouth. She comes in with Belle. The last time Mandy saw her, she was born in a stable on Christmas morning."
And what brings her back?
"I can't tell you, but it's brilliant!"
Does she still have feelings for ex-husband Paddy?
"I don't want to give that away; I think that would ruin it for everybody. That's going to be a nice surprise. Even my Dad's like, 'What's happening with you and Paddy?' I'm like 'I'm not telling you a thing!' because that's the question that everyone wants answering."
Was it easy to slip back into character?
"Completely! I saw Mark (Charnock, who plays Marlon) and Dom (Brunt, who plays Paddy) on the first day, and it was just heaven. The great thing is, I did a scene in the Dingle house about 21 years ago, where I painted the phone pink, and there are still remnants of paint on it now. I thought 'Yes! My stamp is still here!'"
Has coming back to the show brought back any personal memories?
"The first thing Dominic said to me was 'Your Mum would have been here when you were last in the show' (Lisa's mum, Cath, died from cancer in 2012). That's just divine, to think that with Mark and Dom, their memories are of Mum being here with her big personality. How proud she'd be if she could see me back – and my gran, too."
Have you kept up with all the storylines since you left?
"Yes, because if I'm in Asda, people will say 'Hey, have you seen what's happened with Paddy and Chas?' So I might not watch it all, but I'm always told. I thought the dementia storyline with John Middleton (Ashley) was brilliant. They didn't speed it up, they did it to time. My auntie had chronic Alzheimer's, and I thought it was perfect."
Have you stayed in touch with your cast mates?
"Yes, constantly, with people like Dom, Mark, James (Hooton, who plays Sam), and Steve Halliwell (Zak). I've said this before - I'm a Dingle for life. People say, 'There's so many Dingles' but I think it's because it works.
"It must be great to be able to write for them, because you can take them on so many avenues. You can give them comedy, and you can give them storylines that will break your heart.
"People still talk about Mandy and Paddy's engagement to this day. I've been in Australia and people say, 'Oh it broke my heart'. That's the truth of it - we've made you laugh, but we've also made you cry."
Since leaving Emmerdale, you've done a lot of presenting as well as acting. Which of the two do you prefer?
"Acting, 100%, it's in my blood. But I like to be able to show the fun side of me. I grew up on Emmerdale. All my best friends were at Uni, having fun. I grew up on TV and went through my teenage years on screen, so with that in mind, wherever I went it was 'Oh look, there's Mandy!'
"When I presented You've Been Framed, I was suddenly Lisa, which was great. So I liked the fact that I could evolve as a person. Although I get on planes and people sing Barry Manilow's 'Mandy' as I came down the aisle!"
Is the door now open for a longer return?
"Yes! I'm not dead!"
Emmerdale airs weeknights at 7pm on ITV, with an extra episode at 8pm on Thursdays.
Picture credits: ITV and ITV/REX/Shutterstock
Get the What to Watch Newsletter
The latest updates, reviews and unmissable series to watch and more!
Alison Slade has over 20 years of experience as a TV journalist and has spent the vast majority of that time as Soap Editor of TV Times magazine.
She is passionate about the ability of soaps to change the world by presenting important, issue-based stories about real people in a relatable way.
There are few soap actors that she hasn't interviewed over the years, and her expertise in the genre means she has been called upon as a judge numerous times for The British Soap Awards and the BAFTA TV Awards.
When she is not writing about soaps, watching soaps, or interviewing people who are in soaps, she loves going to the theatre, taking a long walk or pottering about at home, obsessing over Farrow and Ball paint.