Robert's plan to avenge Chrissie goes dangerously wrong, reveals Emmerdale's Ryan Hawley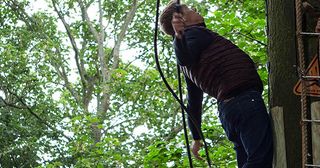 (Image credit: Mark Bruce)
Robert is determined to make Chrissie pay for framing his brother Andy over the shooting of her father, Lawrence. But his plan is dangerous – and it backfires, putting him in a very tricky position in Emmerdale.
Emmerdale's Ryan Hawley reveals how his character Robert Sugden's revenge on Chrissie White goes spectacularly wrong when he realises his sister Victoria could be in grave danger.
What is Robert's plan? "He wants to shake up Chrissie [Louise Marwood]. The plan is to tamper with the equipment at her new adventure park, which will hopefully result in a lawsuit and a lot of negative press."
Is he trying to kill her? "No, although what he does is dangerous. It is typical Robert. He acts first and thinks later. There are going to be a lot of people at the adventure park opening and Robert wants it to go wrong."
What does he do? "He persuades Chrissie to be the first person to try out the climbing wall and then he tampers with the bolt on the safety wire."
So how does it go wrong? "Robert hears that Victoria [Isobel Hodgins] has decided to be the first person to try out the wall. Terrified that his sister will injure herself, Robert decides to make sure the safety wire is working properly. However, he gets into a bit of a predicament – he trips and ends up hanging upside-down."
Whoops! Is he scared? "His biggest fear is that somebody will find him and he will be charged with causing criminal damage. He needs to get hold of Victoria fast – and he does. It was a lot of fun to film these scenes twenty-foot up in the treetops, but it was particularly uncomfortable and I'm not sure I would want to do it again."
How does he explain his position to Victoria? "He has to tell her how Chrissie framed Andy [Kelvin Fletcher] and she is furious."
So, will Victoria help him bring Chrissie down? "I hope so. She is a strong character and I certainly wouldn't want to cross her."
Emmerdale, ITV
Get the What to Watch Newsletter
The latest updates, reviews and unmissable series to watch and more!