Emmerdale: 'Ross is in that mortuary because of me,' Pete tells Debbie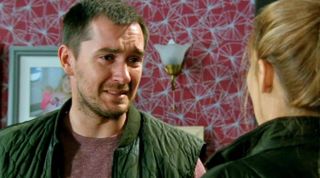 The police have found a body in Emmerdale - and Emma (Gillian Kearney) is convinced it's Ross (Michael Parr).
Emma thinks Cain killed Ross and is sure that the body she and James are going to see in the Monday (August 24) episode will be her missing son.
Pete (Anthony Quinlan) thinks so, too… And, scared and overcome by guilt, Pete tells Debbie (Charley Webb) he murdered Ross.
"I killed my own brother," says Pete.
But Debbie can't believe what she's hearing…
"Stop!" Debbie cries. "Pete, stop! Why are you saying this?"
"I didn't do it on purpose, I swear," Pete tells her. "But it happened. And I panicked. I took him to some woods."
"What? What did you do?" Debbie demands
"I hid him in a ditch. I covered it as best I could and then I came back to you…"
"Why? Why? You just left him out there?" Debbie shouts.
"Yeah and now somebody's found him and he's in that mortuary because of me," Pete says.
Then Pete confesses to dad James (Bill Ward), too, and takes him to where he left Ross's body…
Where does this leave Pete with his devastated family?
Emmerdale continues on ITV, Monday, August 24, 7.00pm.
Get the latest updates, reviews and unmissable series to watch and more!
Thank you for signing up to Whattowatch. You will receive a verification email shortly.
There was a problem. Please refresh the page and try again.