Emmerdale's Adam Fielding: 'Kirin reads Priya wrongly!'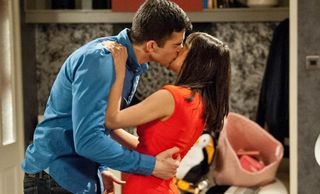 Emmerdale (opens in new tab)'s cougar-cub romance between Vanessa and Kirin is over. But it looks like Kirin has another older woman in his sights - his dad's fiancee! Adam Fielding reveals all…
As an 18-year-old, all Kirin should be worried about is pimples and whose turn it is on the Xbox. But being a teen in Emmerdale is always a bigger drama and, right now, Kirin is struggling with the idea that Adam Barton is the father of Vanessa's baby, not him.
"He's distraught," says Adam Fielding (opens in new tab). "He wanted to invest so much in this baby."
Will Kirin really turn his back on Vanessa? And what if he finds out the child is really his?
So Vanessa has broken Kirin's heart?
"Yes. There's a big trust issue between him and Vanessa [Michelle Hardwick (opens in new tab)] now because she slept with Adam. He also has a beef with Adam now. And he already has a bad relationship with the Bartons after running Moira over last year."
He's being really awful to Vanessa…
"Because he's feeling so angry within himself. He isn't really a nasty person."
But he dates another girl, doesn't he?
"Well, she's just fresh meat, really, and he doesn't treat her well. I think he wants Vanessa to know that he's capable of moving on. He also wants to drown his sorrows."
Could Kirin and Vanessa have made a go of it if Rakesh hadn't doctored the DNA results?
"Kirin's committed to Vanessa and, in an ideal world, he would like to be there by her side. He can't do that now because every time he sees Adam [Adam Thomas (opens in new tab)] round the village, he'll be reminded of what happened. I don't think he'd ever be able to let that go. It's a shame because I get excited watching them together. They've been through a few rocky patches before and always come out stronger, but, this time, things might have gone too far."
Especially after he kisses Priya! How does that happen?
"Well, as he's heartbroken, Kirin starts acting his age, throwing parties and jumping on other girls. There's a moment when he's drunk and vulnerable. He and Priya [Fiona Wade (opens in new tab)] lock eyes for a moment too long and Kirin reads it wrongly. He's just being a fool – people do weird things when they're drunk. Priya's understanding about it, but Kirin's a bit tense as he has to wake up the next morning and move on."
What will Kirin do if he finds out what Rakesh (Pasha Bocarie) did with the DNA results?
"There's always been a bit of tension there between Kirin and his dad and this would give Kirin a chance to bring up some of his past. When it happens, it will be big!"
Emmerdale (opens in new tab), ITV.
Get the latest updates, reviews and unmissable series to watch and more!
Thank you for signing up to Whattowatch. You will receive a verification email shortly.
There was a problem. Please refresh the page and try again.