Emmerdale's Gemma Atkinson: 'Bob throws Carly out on to the streets!'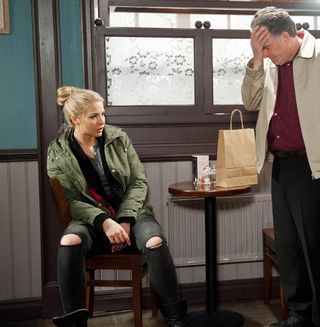 Gemma Atkinson (opens in new tab) reveals to Soapllife why Carly's days in Emmerdale could be numbered…
What's going on between Carly and Bob (Tony Audenshaw (opens in new tab))?
"It's not going well. He's lending her money left, right and centre, but she's still hurt and angry at him. Bob feels he has to make up for years of neglect, but she's making him pay financially."
Then she drags Jimmy (Nick Miles (opens in new tab)) into her messy life, doesn't she?
"Her belongings are still in the house she shared with her ex, Sunil, and she wants to get them back by any means possible. She's planning to flog her stuff to make cash, but Sunil isn't playing ball, so Carly has to think of a way to get her things. That's where Jimmy comes in. Her van's broken down and Ross can't fix it, so she tricks Jimmy into helping. He thinks it's all legit, but she's using him. She doesn't have a key to the house any more and Jimmy gets caught breaking and entering. When he hears the police sirens, he can't get away fast enough."
How does Debbie (Charley Webb (opens in new tab)) get involved?
"When Debbie hears Carly and Jimmy have been questioned by the police, she gets the hump because Jimmy's van is part of Charity's company and she's out to protect her mum."
What happens?
"They have a massive argument. It was so big that we had a stuntwoman in! Carly pipes up that Debbie had a kid when she was so young and Debbie tries to rip Carly off and say her van will cost £800 to fix. Then Carly has a pop about Charity [Emma Atkins (opens in new tab)] being in prison and it really kicks off."
Then Bob finds out what she's done…
"Yes, Jimmy grasses her up and says he had no idea that what she was doing was illegal."
And?
"Carly plays the 'Daddy's little girl' card and asks for money to set up her own business - and he gives it to her! She takes it, but feels bad. Her conscience is starting to kick in a bit."
But Bob kicks her out, doesn't he?
"Yes. Brenda [Lesley Dunlop (opens in new tab)] can see what Carly's up to and warns Bob. After Carly's fight with Debbie, Bob drags her to the café and says enough is enough, but Carly tells him to choose between her and Brenda. She says some horrible things to Brenda and Bob reacts by throwing Carly out on to the streets."
But she lands on her feet - again!
"Yes. She bonds with Leyla [Roxy Shahidi (opens in new tab)] and ends up moving in with her and Vanessa [Michelle Hardwick (opens in new tab)]."
Emmerdale (opens in new tab), ITV
Get the latest updates, reviews and unmissable series to watch and more!
Thank you for signing up to Whattowatch. You will receive a verification email shortly.
There was a problem. Please refresh the page and try again.