Emmerdale's John Middleton says Ashley's forced to tell Harriet: 'It's you or me!'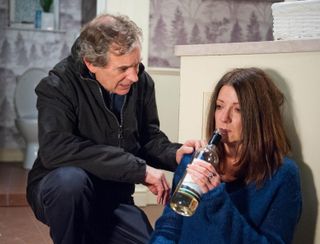 Ashley gets the chance to be a vicar again - but it may cost him new love Harriet, Emmerdale (opens in new tab)'s John Middleton tells Soaplife…
Ashley's fall from grace was spectacular, as he went from village vicar to burger flipper and, eventually, down-and-out on the streets. But when Harriet gets arrested for raiding police files in her search for Rachel, Ashley finally has the opportunity to take back the job he loves.
The Bishop wants to make him vicar again, but will he put the dog collar before his new relationship with Harriet? "He loves the job, but he'd sacrifice it for Harriet," says John (opens in new tab). "He's smitten with her."
What happens when the Bishop calls Ashley?
"The Bishop tells Ashley he wants him to take over if Harriet is no longer the vicar. This is all he's wanted for the past four years and he's not one to look a gift horse in the mouth. But he does know Harriet won't get the job back if he takes it, no matter what."
Then the villagers start a petition to keep Harriet as vicar…
"And Ashley's quaking in his shoes because he hasn't told Harriet [Katherine Dow Blyton (opens in new tab)] what the Bishop said and, if anybody asks him to sign the petition, he can't. That's crunch time. He's forced to say to Harriet: 'Look, it's you or me'!"
And how does Harriet take that?
"She's upset at first, but Ashley is prepared to make the ultimate sacrifice in terms of the job if it means he's going to lose Harriet, and she overhears him talking about it. She's very touched by that."
How does he feel about being vicar again?
"Ashley sunk very low, so he couldn't be happier to potentially be central to the village again, which is what he considers the vicar's role to be."
Will Ashley's downfall make him a better vicar?
"I think so. A lack of humility was one of his flaws, but now he's been humbled. He knows to listen more and to be more understanding of people's weaknesses."
Will his relationship with Harriet last?
"I think it will continue for quite a bit now."
Emmerdale (opens in new tab), ITV. Click here (opens in new tab) for dates and times.
Thank you for signing up to Whattowatch. You will receive a verification email shortly.
There was a problem. Please refresh the page and try again.