Emmerdale's Pasha Bocarie: 'Rakesh blames himself for Kirin. If he hadn't tampered with the DNA results...'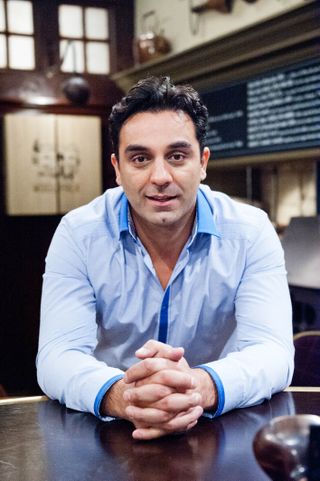 Kirin needs his dad after he kills Tess in Emmerdale (opens in new tab) in a hit-and-run accident… But can Rakesh help him? Pasha Bocarie (opens in new tab) shares the drama with Soaplife...
What's happening with Kirin?
"Well, Kirin [Adam Fielding (opens in new tab)] is panicking. He has met up with Rakesh and told him what happened with Tess. Now he's lying low and Rakesh is doing his best to help him stay hidden. Priya is in on this, although she feels uncomfortable about lying."
Is Rakesh ashamed of Kirin?
"Yes. If you remember, this isn't the first time he has driven while under the influence… He ran Moira [Natalie J Robb (opens in new tab)] off the road previously, but at least he went back to look for her and didn't kill her. Of course, Rakesh is angry and disappointed, but there's no time to dwell on that, it's more a question of, 'What do we do now?'"
The police find Kirin's car. Can Rakesh really protect him?
"Kirin sends Rakesh a letter and although he tries to hide this, the police find out. Rakesh ends up digging a hole for himself that he probably won't be able to get out of. Whether it is right or wrong, his instincts tell him to protect his son. He is feeling the pressure and there will certainly be knock-on effects."
Does Rakesh still feel bad about tampering with the DNA results?
"He does and he believes he is partly to blame for what has happened… If Rakesh hadn't interfered, Kirin wouldn't have gone off the rails and ended up behind the wheel drunk."
Rakesh has a lot of secrets, doesn't he? He's also hiding money worries from Priya (Fiona Wade (opens in new tab))...
"He is lying about his finances because he's ashamed. He doesn't want to disappoint her and is currently in a situation where he is not even able to pay for their wedding."
Why is he so broke?
"He has lost money tied up with the flats he was building and then his firm put him on unpaid leave because of what has happened with Kirin. His reputation is at stake because there are rumours going round that he is hiding his son from the law. What he is doing for his son could destroy his career."
So why is he working for Charity?
"There is something about her that reminds him or himself. She plays rough, but is determined to get what she wants. However, Charity [Emma Atkins (opens in new tab)] wants Rakesh to do the dirty on Jimmy [Nick Miles (opens in new tab)], but he decides to do the right thing for once and warns him."
What's in store for Rakesh?
"Right now, he has no control over his life and it is a low point for him, but he is a fighter and viewers are about to see a different side of him."
Emmerdale (opens in new tab), ITV
Get the latest updates, reviews and unmissable series to watch and more!
Thank you for signing up to Whattowatch. You will receive a verification email shortly.
There was a problem. Please refresh the page and try again.