Emmerdale stars reveal wedding escape window scene took 7 hours to film! (VIDEO)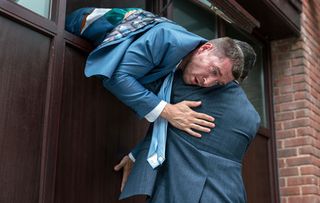 It might have only been a short clip in the whole episode but the wedding window scene was harder to film than you might think!
Most couples get nervous on the day of their wedding, but when it came to the day of their Emmerdale (opens in new tab) wedding, Leyla and Pete took it to the next level.
If the pure ridiculousness of seeing the pair hang out of separate lavatory windows wasn't enough to make you smile, imagine the actors doing it for seven hours!
While the scene was certainly entertaining, actors Roxy Shahidi (Leyla) and Anthony Quinlan (Pete) revealed it was quite tricky... and exhausting... to film.
In an exclusive interview with What's On TV, Anthony said: "It was fun to do, but I tell you what, being upside down wasn't easy!"
Roxy added: "It was for hours, it was about seven hours of filming those out-of-the-window scenes."
Both Roxy and Anthony enjoyed the scene because it offered a snippet of humour in a storyline which has been full of mixed emotions.
Sadly for Leyla and Pete it looks as though their roller-coaster relationship is about to take another downward turn. With Priya, played by Fiona Wade, and Pete sharing another intimate moment on the wedding day, will everything be revealed soon?
Read More...
Emmerdale Behind the Scenes Picture Special: Leyla and Pete's Wedding!
Emmerdale's Fiona Wade takes aim at Priya: 'I know how it feels to be cheated on'
Emmerdale's love triangle stars talk Leyla and Pete's wedding: 'It's all been a bit of a mishap' (VIDEO)
Speaking about Priya and Pete's wedding day kiss, Fiona said: "It was a complicated ending.... It comes back to showing that there are feelings there and they have both kind of been squashing them down and then obviously at the end of this horrendous heartbreaking day they still can't seem to just walk away from each other."
She was careful not to give too much away, but Roxy confirmed that Leyla will find the news hard to take.
Roxy said Leyla will 'beyond devastated' when Pete's affair is exposed. She added: "I think she could almost forgive him and almost understand it, but with Priya, I mean, they have been so close for so long, I don't think there is any words to really describe that kind of betrayal that you feel and that loss."
Get the latest updates, reviews and unmissable series to watch and more!
Thank you for signing up to Whattowatch. You will receive a verification email shortly.
There was a problem. Please refresh the page and try again.