Emmerdale's Gillian Kearney: Emma manages to find support for her outrageous lie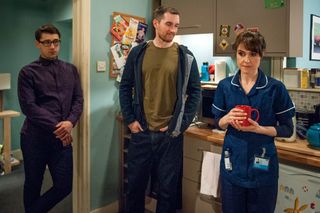 (Image credit: Andrew Boyce)
Emmerdale (opens in new tab)'s Emma loses the plot when she lies she has Motor Neurone Disease to keep Pete in the village. Gillian Kearney (opens in new tab) tells Soaplife about her crazy scheme…
What on earth is Emma thinking?
"Pete had come out of prison and said he was moving to Aberdeen. Emma was devastated. She's seen how people in the village come good when somebody is ill, so she said she has Motor Neurone Disease [MND]. By the time she'd thought it through, it was too late as Pete [Anthony Quinlan (opens in new tab)] had decided to stay to be with her."
Does she really think this will work?
"The important thing is that Pete loves his mum and he won't leave her while she has this serious illness. At one point, she does try to tell him the truth…but she can't quite bring herself to because she's basking in the love. She's so needy!"
Does everybody believe her?
"She's trying to get Pete to keep it quiet. But he talks to Finn [Joe Gill (opens in new tab)] about it, who's deeply suspicious. Emma's terrified when he suggests going with her to the doctor's for her test results. Emma thinks the game might be up, but she gets an idea when Belle [Eden Taylor-Draper (opens in new tab)] turns up."
But it's a degenerative condition. Surely, she'll get found out…
"She's a resourceful woman and she manages to find support from another character in the show."
Is she still in love with James (Bill Ward (opens in new tab))?
"She loves him to the point of obsession. Her whole reason for existing is him and the boys. She wants to be there for them and get it right the second time around – in her own unique way."
Emmerdale (opens in new tab), ITV
Get the What to Watch Newsletter
The latest updates, reviews and unmissable series to watch and more!