Emmerdale's John McArdle: Ronnie's shocked Lawrence would use armed threat to get rid of him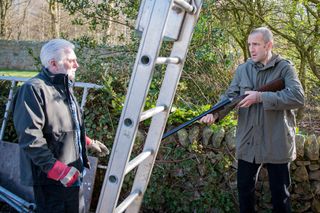 (Image credit: Andrew Boyce)
Emmerdale plumber Ronnie finally reveals his link to Chrissie [Louise Marwood] (opens in new tab), Lawrence and the rest of the White family… And John McArdle (opens in new tab) reveals all to Soaplife…
Is Ronnie really Chrissie's dad?
"All I can tell you is that Ronnie did know Lawrence [John Bowe] (opens in new tab) and his wife, Ellen, way back when."
Why does Ronnie accept a job from Rakesh?
"Rakesh [Pasha Bocarie] (opens in new tab) hires him as a builder/plumber, which is what he does. He's a good tradesman. This also gives him a chance to get to know people in the village."
Lawrence isn't happy to see Ronnie again, though, is he?
"He's fuming, but he and Ronnie do talk about the past and how they know one another. They also get into an argument. Lawrence doesn't want Ronnie around, as people will think he's Chrissie's father, and Bernice [Samantha Giles] (opens in new tab) is pushing for the truth to come out. Ronnie thinks Lawrence should be honest."
Instead, Lawrence tries to get rid of Ronnie!
"Sam Dingle [James Hooton] (opens in new tab) confronts Ronnie with a gun and threatens him. Ronnie is shocked Lawrence would go to such lengths. When he last knew Lawrence, he wasn't so powerful."
What does he do when he's faced with the gun?
"He sits Sam down and they have a long conversation about why he was sent to threaten him."
Are you enjoying this role?
"Yes. It's written really well. Before I came in, I had a meeting with the producer and I was told of Ronnie's background: he likes his drink and his football, he's a straight-down-the-line sort of guy, he's a fair person and he likes everyone to tell the truth."
Could he also be trouble?
"If you got on the wrong side of Ronnie, he'd certainly give you a mouthful. He won't be trampled on."
How long will Ronnie be around for?
"I have a six-month contract, but I'd love to be here longer."
Have you worked with any of the Emmerdale cast before?
"I've worked with Jeff Hordley [Cain Dingle] (opens in new tab), Lesley Dunlop [Brenda Walker] (opens in new tab), Duncan Preston (Doug Potts] (opens in new tab), Steve Halliwell [Zak Dingle] (opens in new tab) and Jane Cox [Lisa Dingle] (opens in new tab) a lot, so it felt friendly. I knew John Middleton [Ashley Thomas] (opens in new tab), too, as he came and did some work on Brookside when I was there."
Emmerdale (opens in new tab), ITV
Get the What to Watch Newsletter
The latest updates, reviews and unmissable series to watch and more!