Lawrence White declares his feelings for Ronnie, reveals Emmerdale's John Bowe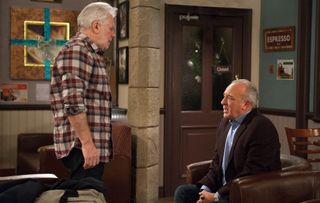 (Image credit: Andrew Boyce)
It's taken 30 years and huge amount of trauma for Lawrence White to admit to Ronnie he loves him, says Emmerdale's John Bowe. But is it too late?
While his family is at war with one another, Lawrence White turns to Ronnie for comfort and finally has the courage to admit that he loves him. "It is a huge moment for Lawrence," Emmerdale actor John Bowe tells Soaplife…
How is Lawrence feeling as his grandson Lachlan's court hearing approaches? "He is desperate. It is a desperately difficult time and he is nervous that things won't go their way regarding Lachlan. Lawrence feels deserted and alone and he is worried for the future."
Is he angry with Rebecca for setting up Lachlan to confess to his crime? "He is furious. Both Chrissie and Rebecca are presenting enormous problems for him."
What happens as Ronnie prepares to leave Emmerdale? "Lawrence begs him to stay. He is a solid friend from 30 odd years ago, who helped him so much in his dark times before. He finds it extremely difficult, which is why he then lies and says he was drunk when he said it."
What makes Lawrence tell Ronnie he loves him? "Ronnie overhears Lawrence saying that he was drunk when he begged him to stay and he is mortified when he sees how much this upsets him. Lawrence decides to declare his feelings for Ronnie, which he does in the cafe. It is a public place and for once, he doesn't mind who overhears."
Why has it taken him so long to do this? "He is a damaged man. But he really needs Ronnie around as his daughters are at loggerheads and Lachlan is facing a charge of attempted murder. I don't know if he is ever going to be able to have a successful physical relationship with anybody. He has always used work to avoid emotional relationships in the past."
What do viewers think of Lawrence and Ronnie? "It has been a source of amazement to me that fans young and old are entranced by them. I am often collared by men out in public who I suspect went through similar traumas to Lawrence and are happy to see it portrayed in a TV show."
Do you think Lawrence and Ronnie could be happy together? "I don't know. A lot has changed over the past 30 years for them. Lawrence has a class and wealth that Ronnie doesn't..."
Get the What to Watch Newsletter
The latest updates, reviews and unmissable series to watch and more!