Emmerdale's Michael Parr: 'Ross is afraid Debbie won't want him when she finds out he's her brother's dad'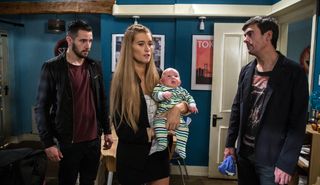 (Image credit: Joseph Scanlon)
Emmerdale (opens in new tab) hunk Michael Parr (opens in new tab) says Ross fears Debbie will dump him if she finds out he is Moses's dad…
How does Ross feel about being Moses's dad?
"He has not taken the news well. He thinks Moses will slow him down and stop him being who he really is. It is not in his nature to be a dad. He wants to be honest with Debbie (Charley Webb) who is bringing up Moses at the moment, but every time he goes to say something, they are interrupted. He is also afraid she will not want him if she finds out he is her brother's dad!"
Why has Ross agreed to Charity's demand that he split up Cain and Moira?
"He has no choice. If he doesn't do Charity's bidding, she will tell Debbie he is Moses's father."
Would that be so bad?
"The last woman Ross said that he loved ended up falling off a building. He doesn't want to risk losing Debbie too. He will do whatever it takes to get what he wants."
Where are Debbie and Ross planning to run away to?
"To somewhere no one can find them, while the dust settles back in the village. Pete (Anthony Quinlan) can come to terms with the fact that Debbie has run off with his brother so that when they come back, it won't be such turmoil for them and the kids."
Are Debbie's children going with them?
"Debbie has to take her kids, but Ross is torn - if he takes Moses, he might feel a bond and he will have to tell Debbie. He is being pulled in so many different ways."
Doesn't he feel bad about taking Pete's fiancée?
"Ross thinks Debbie is way too good for Pete because he is boring and slow. She likes a fast adventurous type, but the trouble is, she has kids and the two don't mix."
What happens when Debbie finds out that Moses is Ross's baby?
"She is so disappointed as she was going to give up a happy life to be with this guy and feels like a mug. She gave him every opportunity to tell the truth. He thought he was going to get away with it, but the news comes out just as they're leaving…
Get the latest updates, reviews and unmissable series to watch and more!
Thank you for signing up to Whattowatch. You will receive a verification email shortly.
There was a problem. Please refresh the page and try again.