Emmerdale's Michelle Hardwick: Vanessa gets a birthday bombshell!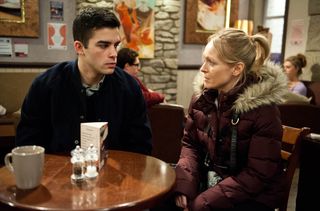 Emmerdale vet Vanessa Woodfield is terrified when toyboy Kirin finds a lump in her breast, Michelle Hardwick (opens in new tab) tells Soaplife…
How does Vanessa feel about turning 39?
"She acts like it isn't her birthday because it makes the age difference between her and Kirin [Adam Fielding] feel even bigger. She doesn't tell him, but he comes in and says 'Happy Birthday' and is carrying all the cards that have come through the letterbox."
What does Kirin think of her age?
"He tells her that the age is nothing. He says 'What we've got is real' and she falls into his arms."
How does he find the lump?
"The day after her birthday, they go for brunch and when they get back, Vanessa is ready for her afters – she is a woman with quite an appetite I think! They have a nice little smooch on the couch and he feels the lump and freezes."
What does he say?
"At first, nothing and Vanessa thinks it has hit him that she is this much older woman. They start kissing again, he feels it one more time and asks 'Do you ever check yourself out?' He explains about the lump and she goes upstairs to check herself.
And she realises he is right… what does she say to him?
She lies to Kirin and says it is a cyst and that she has had hundreds before, but she rushes off to find Rhona [Zoe Henry] who tells her to go to the doctor."
What does the doctor say?
"He refers her for further tests. She has a biopsy and has to wait five days for the results."
Does she tell Kirin?
"Rhona tells her she must and Kirin promises to stick by her. He offers to go with her to her medical appointment, but she is at the vets waiting for him and he doesn't turn up."
How does that make her feel?
"When he lets her down, she feels very lonely and disappointed. She is not angry with him, she's sorrowful."
How worried is Vanessa about the lump?
"She is freaking out massively. I don't check myself as often as I should as I am scared of finding something, but after researching this story, I do and I hope other women watch it and do the same."
Get the latest updates, reviews and unmissable series to watch and more!
Thank you for signing up to Whattowatch. You will receive a verification email shortly.
There was a problem. Please refresh the page and try again.