Gaynor Faye: Megan Macey is caught cheating with Graham Foster!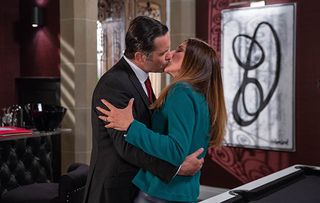 Gaynor Faye reveals Charity Dingle finds out that Megan Macey is cheating on her fiancé Frank Clayton in Emmerdale - will she tell?
Megan Macey is on shaky ground when her fiancé Frank Clayton finds a pregnancy test in her handbag. The result shows negative, much to her secret lover Graham Foster's relief, but it looks as if their affair is exposed when Charity Dingle catches the pair canoodling…
What's the story?
Megan's blood runs cold when Charity reveals she knows about her and Graham… "Charity is a ticking time bomb," says Gaynor Faye. What will Charity do with the secret?
What's happening in Emmerdale? See the latest soap storylines
Gaynor Faye's interview with Soaplife about Megan Macey torn between two lovers in Emmerdale…
Soaplife: What is it about Graham that Megan Macey can't resist?
Gaynor Faye: "He is a man of mystery and Megan finds him enigmatic. She likes the danger and excitement of being with him – he reminds her very much of her brother Declan."
S: But she is engaged to Frank… does she love him?
GF: "Yes, he's a loveable rogue who comes with a ready-made family and Megan wants that."
S: How did the pregnancy scare affect her?
GF: "She was terrified. There is some doubt as to whether Frank can still father children. She is at that point in life where she didn't expect that to happen. She thinks she has got away with this affair and a pregnancy scare is the last thing she wants."
S: So what happens when Frank finds the test?
GF: "It is actually Graham who tells her that Frank has found a pregnancy test in her bag and alarm bells ring. He confronts Megan about it and she reacts by accusing him of not trusting her."
S: How does she end up kissing Graham again?
GF: "There is chemistry between him and Megan, which she tries to resist because she doesn't want to be unfaithful, but there is unfinished business there. She's at Home Farm trying to organise things for one of Joe's clients and although she thinks she is strong enough to resist Graham while she's there, she's not."
S: How does she feel when Charity reveals she knows about the affair?
GF: "Charity's everything that Megan can't stand in a woman, so she is the worst person to know about it. Megan knows it is a ticking time bomb because Charity can't keep a secret for long."
S: Who will Megan choose if she has to – Frank or Graham?
GF: "I don't know, it's a dilemma. For longevity, I think it would be Frank, he would be there forever and they'd grow old together and he'd look after Eliza and everything. However, for excitement, thrill and passion, it would be Graham. There are some lovely scenes to come where all this is addressed."
S: Would Megan like to be reinstalled at Home Farm?
GF: "Who wouldn't want to get in the big house? There is so much space and it is nicer to cook in that kitchen. I am sure Megan could get up to all sorts of mischief with Graham; he might bring out her darker side."
S: What's it like working with Andrew Scarborough (Graham) and Michael Praed (Frank)?
GF: "They are both really fantastic actors. Michael never stops telling me stories and he's very, very funny. Andrew is the same. I am a lucky woman."
Emmerdale continues on ITV.
Thank you for signing up to Whattowatch. You will receive a verification email shortly.
There was a problem. Please refresh the page and try again.