Gemma Oaten: Rachel decides her future isn't with Sam – and it isn't in Emmerdale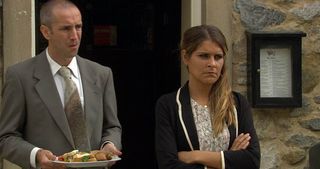 Emmerdale's Gemma Oaten (opens in new tab) tells Soaplife why it's goodbye again for Rachel and Sam...
Returning to Emmerdale has not been good for Rachel Breckle, who has become a monster and is making Sam Dingle's life hell. Her temper is particularly frayed as she prepares to attend her sister-in-law Ruby's funeral. The stress is enormous and Rachel decides to leave the village to start a new life in Liverpool.
"Ali tells Rachel she needs to sort her head out and she agrees," says Gemma (opens in new tab). " She decides to leave and, this time, Rachel and Sam get to say goodbye."
Why is Rachel battering Sam?
"Since she went on the run, she has felt bullied by Jai and she is taking her anger out on Sam. She absolutely adores him, but is like a wounded animal lashing out."
How does Rachel feel on the day of the funeral?
"She has the day from hell. Sam's van breaks down. They're stranded and Zak [Steve Halliwell (opens in new tab)] sees the way Rachel is treating Sam and says that she's being a bit harsh. She doesn't want Zak sniffing around so she bans him from Ruby's funeral."
Then she argues with Sam during the service. Why?
"His phone goes off – and it's a Leeds United tune! Rachel is livid when it goes off, although James [Hooton (opens in new tab), who plays Sam] and I struggled to keep a straight face when we filmed."
What was it like filming the funeral?
"Alicya [Eyo (opens in new tab), who played Ruby] had already left the show, so it felt strange. I couldn't quite get my head around it. It was hard because I knew these were some of my final scenes."
What is it that Ali sees and doesn't like?
"Ali [Kelli Hollis (opens in new tab)] has noticed that Rachel is quick to put Sam down. After the funeral, Sam tries to apologise to Rachel, but she can't contain it and says some horrible things. Ali demands to know what's going on. She tells Rachel that she needs to sort herself out if she's going to survive and keep her son. Rachel is devastated but, deep down, knows that Ali is right. She loves Sam and he loves her, but they can't go on like this."
What were your final scenes like?
"Pretty heartbreaking. Rachel and Sam get to say a proper goodbye."
Emmerdale (opens in new tab), ITV.
Get the latest updates, reviews and unmissable series to watch and more!
Thank you for signing up to Whattowatch. You will receive a verification email shortly.
There was a problem. Please refresh the page and try again.