Robert will inflict more damage on the Whites in Emmerdale, reveals Ryan Hawley!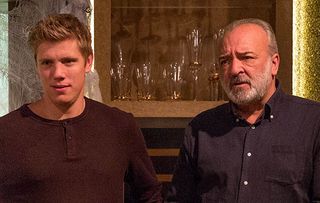 Robert Sugden continues to play dirty so he can snatch Home Farm away from the Whites, Emmerdale's Ryan Hawley tells Soaplife
Robert Sugden's playing Lawrence White like a fiddle and he's loving every minute of it. But then he says he's got a job offer away from the village, Ryan Hawley reveals to Soaplife
What's the story?
So, is Robert Sugden's job offer the real deal… or is it part of the plot to steal Home Farm? Do we even need to guess? "His objective is to win Home Farm,' Ryan Hawley told Soaplife. "Everything he does at the moment is to further that aim and he hasn't finished yet."
What's happening in Emmerdale? See the latest soap storylines
Ryan Hawley reveals all to Soaplife
Soaplife: Is Robert capable of killing Lawrence?
Ryan Hawley: "I don't think Robert's an out-and-out murderer. The situation with Katie Sugden was an accident. However, the lengths he's prepared to go to get what he wants are surprising, so I wouldn't rule it out…"
S: Is Robert winning when it comes to taking Home Farm from the Whites?
RH: "He has Lawrence in the palm of his hand at the moment, which is exactly what he wants. He knows the Whites and what makes them tick, so he's in a very strong position. But he keeps coming up against various obstacles and he continually has to improvise and come up with new alternatives. He has to think on his feet."
S: What is this job Kath offers Robert?
RH: "It's all part of his master plan…"
S: Is he worried about Lachlan?
RH: "Lachlan's a bit of a threat, but Robert still sees him as a child, so he isn't intimidated."
S: Do you miss working so closely with Danny Miller on all the Robron scenes?
RH: "I do still work with him! We still get to spend time together, we enjoy each other's company and we have a bit of a laugh. When you're not always working with the same person, it's that much better when you do work with them."
S: Can Robert and Aaron ever be together again or is that all over?
RH: "Personally, I'd like to see some kind of development there. Robert's in love with him and they're soul mates, but I really don't know what's going to happen to them. We'll have to wait and see."
S: Could the baby Robert's having with Rebecca change the situation?
RH: "The effect that will have on him will come as a bit of a shock. It's a first for me having a baby on set and I was a bit nervous about holding it. It's not that easy if you don't handle babies very often as it's not a skill you can practice. This particular baby's a delight to work with, though. It's pretty much always sleeping."
S: What's Robert going to do next?
RH: "Right now, we haven't got to the end game and there's a lot more damage he will inflict on the Whites in the coming weeks."
Emmerdale, ITV
Get the latest updates, reviews and unmissable series to watch and more!
Thank you for signing up to Whattowatch. You will receive a verification email shortly.
There was a problem. Please refresh the page and try again.