'Robert will see the Cain of old,' warns Emmerdale's Jeff Hordley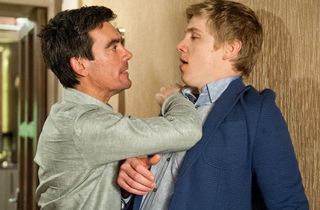 Cain will make Robert regret crossing him as Emmerdale's bad lad returns to his villainous best, reveals Jeff Hordley (opens in new tab).
Cain Dingle's life of quiet, domestic bliss is well and truly over since he kissed Chrissie Sugden. Robert has a photograph of them locking lips and blackmails Cain with it. Silly boy. He's poked the sleeping grizzly bear…
"You'll see glimpses of the Cain of old," promises Jeff. "He has to defend his corner and, to do that, he reverts to some of his old tactics."
So, what happens?
"Cain kissed Chrissie [Louise Marwood (opens in new tab)] in a moment of anger; it was in no way sexual. Suddenly, Cain is thinking: 'Oh my God, what am I going to do about this?' His first reaction is to slam Robert [Ryan Hawley (opens in new tab)] up against a wall."
What does Robert want from Cain?
"He asks him to find Adam [Adam Thomas (opens in new tab)] and Victoria [Isabel Hodgins (opens in new tab)], who've done a runner. Robert taunts Cain with the photo until, eventually, Cain realises he has no choice but to do what Robert wants."
And he does find the runaway couple. How?
"He overhears Finn [Joe Gill (opens in new tab)] talking to James [Bill Ward (opens in new tab)] and Moira about where Adam could be and he has a hunch that Finn knows more than he's letting on. He corners him and manages to get the information out of him."
What does he say to Adam and Victoria?
"He asks them why they're running away. He urges them to go home and get wed with Moira present. He explains they should share this moment with their families."
Will Cain shop Adam to Robert?
"Cain's first instinct is to protect Adam from what trouble Robert might make for him."
What does that mean for Robert?
"Cain beats him up and teaches him a lesson. Then Cain gets something on Robert, which might give him the upper hand. I think the pair of them are well-matched, but I have a feeling Cain will triumph in the end…"
How are things going between Cain and Moira?
"They're a strong couple. Obviously, the news that Charity has had a baby has rocked them - and Cain is angry that Moira [Natalie J Robb (opens in new tab)] wanted him to do a DNA test. I hope they stay together."
But Cain's not finished being brutal, has he?
"I wish I could tell you! There are a lot of Emmerdale people talking about this summer. It's going to be really exciting. I have had a quiet patch, but it's going to be full on for the foreseeable. A lot is going to happen."
Emmerdale (opens in new tab), ITV
Get the latest updates, reviews and unmissable series to watch and more!
Thank you for signing up to Whattowatch. You will receive a verification email shortly.
There was a problem. Please refresh the page and try again.