Ross Barton is in new danger when he goes after revenge says Emmerdale's Michael Parr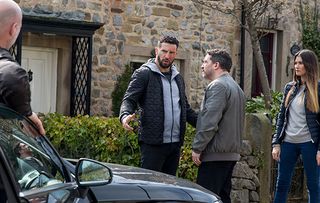 Emmerdale star Michael Parr reveals Ross Barton is drawn into the drug-dealing world when he goes after the man he blames for the horrific acid attack…
Ross Barton is drawn into the drugs-dealing world in exchange for information about the person behind the acid attack that left him disfigured, Emmerdale star Michael Parr tells Soaplife…
What's the story?
Ross Barton hasn't reacted well to the news that Simon McManus has got off scot free after throwing acid in his face. It's time for "street" revenge and Ross begins by tracking down Simon's drug dealer friend Connor. "He is a thug," actor Mike Parr tells Soaplife. "He promises Ross information if he will do a job for him." Is Ross about to get himself into yet more trouble?
What's happening in Emmerdale? See the latest soap storylines
Michael Parr's interview with Soaplife
Soaplife: How does Ross feel about Simon being let off?
Michael Parr: "He's devastated, it throws questions up, such as was he responsible or was it somebody else? Simon is still out there and Ross hasn't got any answers."
S: Does he want revenge?
MP: "Yes, he does. Initially, he wanted him to go through the justice system and now that hasn't worked out, he is hellbent on getting justice his way. It's an eye for an eye – or two eyes, as far as Ross is concerned."
S: How does he find Simon's friend Connor?
MP: "He knows where Simon lives because he previously went round there with Adam Barton when he was supplying drugs to Adam's sister Holly. He goes there looking for him and meets Dawn whose pimp is Connor."
S: What happens?
MP: "Ross goes for Connor, but Connor is the bigger badass and promises to give Ross information about the acid attack if he does a job for him. He ends up doing a few jobs for him and gets angry at being spun a yarn."
S: But a job goes wrong?
MP: "Ross's car gets stolen containing £10,000 worth of heroin meaning that he's just got himself into a hole with a crazy Scottish gangster. When Connor finds out, he gets hold of Debbie and says she either finds the drugs or pays the money.
S: What does Ross find out about the attack?
MP: "He is told that Joe Tate organised it and paid Simon to keep his mouth shut. He has absolutely no idea still that Debbie was involved."
S: Does this mean Joe is going to cop it?
MP: "He is in the frame and Ross is furious. He gets hold of this old WW2 gun and puts one bullet in the barrel. He goes to see Joe and keeps pulling the hammer – sooner or later the gun is going to go off. He urges Joe to tell him the truth about the attack and fully intends to shoot him if he doesn't."
S: How would he react if Joe told him the truth about Dingle?
MP: "He would be heartbroken to find out it was all the fault of the woman he loves. But he would still want revenge…"
Emmerdale continues on ITV.
Get the What to Watch Newsletter
The latest updates, reviews and unmissable series to watch and more!