Trudie Goodwin on her new beat in Emmerdale!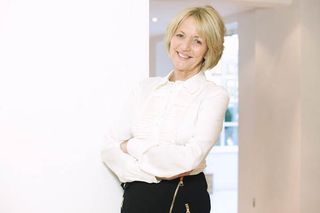 Joining Emmerdale as Jai and Nikhil's mum Georgia, Trudie Goodwin reveals to Soaplife that, as the mother-in-law from hell, she's set to cause a stir! Playing Sgt June Ackland in The Bill, Trudie has seen her fair share of drama. But that was nothing compared to what's in store when, as Mrs Sharma, she comes face to face with Charity Dingle. Soaplife talked to Trudie about her new role in the rolling hills of Yorkshire. How does it feel to be joining Emmerdale? "It's great! I've had to hit the ground running, because there are an awful lot of lines to learn, so it's not unlike being back at The Bill. But everybody is incredibly friendly, there are no massive egos and everyone pulls together to work for the same goal." Tell us about Georgia Sharma... "Georgia couldn't be more different from June Ackland if she tried! She's glamorous, wealthy, strong, forthright and doesn't suffer fools gladly. She's definitely going to ruffle a few feathers in Emmerdale!" How does she feel about Jai getting married? "She's absolutely shocked. The favourite son Jai obviously hasn't been telling her everything. She arrives in the village like a whirlwind and is certainly not happy to see that Charity's got her feet under the table." So she gives Charity a hard time? "She's actually quite unpleasant! She asks if she has she thought about having botox, which isn't the ideal thing to say to your future daughter-in-law the first time you meet her! She's prepared to dislike her intensely and would quite like to get rid of her." So she's not pleased for Jai? "Initially she's very disappointed with Charity - especially when she finds out she's been married before. But she realises quite early on they really are terribly fond of each other, and Georgia's primary concern is for Jai's happiness. If Jai's happy, Georgia's happy, so she'll bite the bullet and make the best of a bad job." Have she and Charity met their match in each other? "Oh, unquestionably! They're quite similar in many ways and they both recognise that early on. There's going to be a lot of sparring, but there's also a grudging mutual respect." How long will you be in Emmerdale? "I'm initially signed up for three months, by which time I'll probably be exhausted! It's very hard work, so I know it will go by in a flash, but I'm looking forward to it." Did you already know any of the Emmerdale cast? "I know Pauline Quirke [Hazel], who did some episodes of The Bill. In fact, I think the last time I saw Pauline I was delivering her baby in a cell! And I know Chris Chittell [Pollard], Elizabeth Estensen [Diane] and Lesley Dunlop [Brenda]. Natalie J Robb [Moira] was also on The Bill and the last I saw of her she was dying as the station burnt down, so it's good to see her alive and kicking on Emmerdale!"
Get the latest updates, reviews and unmissable series to watch and more!
Thank you for signing up to Whattowatch. You will receive a verification email shortly.
There was a problem. Please refresh the page and try again.