Chasing vicar Harriet 'is an exciting game for Cain' says Emmerdale's Jeff Hordley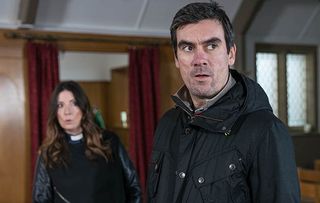 Viewers have been surprised by Cain's interest in vicar Harriet… And there could be more surprises to come, says Emmerdale's Jeff Hordley
On paper, vicar Harriet Finch and bad boy Cain Dingle are Emmerdale's most unlikely pair. However, the sexual chemistry between Cain and Harriet is clear.
"Cain thinks this could be the start of something good," Jeff Hordley tells Soaplife. "She'll keep Cain on his toes."
So he is attracted to Harriet? "Yes. Cain has realised there is no going back with Moira [Natalie J Robb]. I think he likes the fact that she is a vicar, although she is not your usual kind of vicar. He likes the fact that she has a bit of spunk about her and won't put up with any rubbish."
But she tells him to stay away from her! "To be honest, that makes it all a bit of an exciting game for him."
Could Harriet change Cain? "I doubt it very much. His DNA and moral compass will always stay the same – I am not sure he is suddenly going to wake up and announce that Harriet is teaching him the ways of the Lord."
Would you like Cain to bring out a naughty side in Harriet? "Yes – and he might do that. Perhaps he'll make her see that the parameters she lives her life by are not the best thing in the world."
What will Moira and Charity have to say about the relationship? "I think Charity [Emma Atkins] would err on the side of taking the mickey to mask any feelings she has, whereas Moira might be a disappointed. The reason Cain has started to look elsewhere is because he feels there is no longer any hope for him and Moira."
How would Cain feel if Moira found someone else? "I think he'd find it hard to hide his feelings."
What does the future hold for Cain? "I don't know. We'll have to wait and see where this goes. It's great working with Katherine [Dow Blyton, who plays Harriet]. She is an amazing actress and such good fun to work with.
Are you enjoying having Sally Dexter (who plays Faith) around? "Yes, she is a superb addition to the show and has all the hallmarks of a classic Dingle character."
Emmerdale, ITV
Get the What to Watch Newsletter
The latest updates, reviews and unmissable series to watch and more!