VIDEO: Emmerdale rape verdict: Gordon guilty! 'It's over, son,' Chas tells Aaron. But it's not…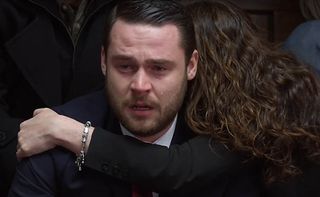 Emmerdale was emotional viewing last night, as the jury returned a "guilty" verdict on all charges of Gordon Livesy (Gary Mavers) raping and attempting to rape his son, Aaron.
You can see for yourself in the video below.
Aaron (Danny Miller) broke down in tears as his family and friends celebrated the verdict.
"It's over, son," Chas (Lucy Pargeter) told her son, gently.
Aaron breaks down as Gordon is found guilty
But we're sure it isn't…
As Gordon was declared guilty, he shouted: "This isn't right! He's a liar!"…
He's still sticking to his story, which we all know is the lie. But as long as Gordon refuses to admit to everyone what he did to his son, we fear for Aaron's safety.
Being in prison won't stop Gordon from trying to hurt Aaron some more. We've seen how he tried to use his own daughter, Liv (Isobel Steele), to discredit Aaron in court.
Angry Gordon turns on the jury as they deliver their guilty verdict
What else will Gordon do? He knows Aaron has self-harmed because of the abuse he put him through.
And Aaron confessed to Robert (Ryan Hawley) right after the court case finished that he doesn't know how to live with everything that happened to him in the past. Even he's scared he'll hurt himself again.
Gordon knows how to hurt Aaron, not just physically. And we're convinced that being behind bars won't stop him from tormenting his son some more.
The one thing Aaron has that Gordon doesn't is family support – he's even going to change his surname to Dingle. And we reckon he's going to need lots of Dingle TLC.
He's also got Robert now, too, of course – much to the joy of Emmerdale fans of "Robron", as they call Robert and Aaron. It's definitely romance back on for them.
"Robron" are back on!
"I'm sure there'll be ups and downs and it'll be a rocky road," says Ryan. "But from what I've seen in the scripts, it seems that Robert does really care about Aaron and wants to be there for him. So it appears that they could be good together.
"But in a continuing drama there can't be a happy ending as such, can there? So if anyone is hoping for that I don't think it will be the case…
For now, though, it appears that Aaron has forgiven Robert his many sings, including killing Katie and nearly killing Paddy (Dominic Brunt).
"Aaron knows people make mistakes," says Danny. "Maybe not as big as Robert's, but in his own selfish way he wants Robert to be the one he loves and wants to block out what's happened and start again.
"He knew Robert was in a dark place when he did what he did and was someone he didn't really want to be. I think a lot of it was him struggling with his own sexuality and a marriage he didn't want to be in. It's not an excuse but a catalyst to why he was making stupid mistakes.
Aaron is happy to be back in Robert's arms
"There's room for some forgiveness, there's remorse there clearly. So I just hope the viewers can kind of give Robert the chance to earn back the love again. I think he will through this, watching how Ryan's played it."
As for talk of Aaron and Robert getting married…
"Oh, I don't know," says Danny. "Maybe. They definitely want to be together."
Emmerdale continues on ITV, Monday, April 18, 7.00pm.
http://www.youtube.com/watch?v=ElYJU71G7Gc
Get the What to Watch Newsletter
The latest updates, reviews and unmissable series to watch and more!