Who shot Robert Sugden in Emmerdale?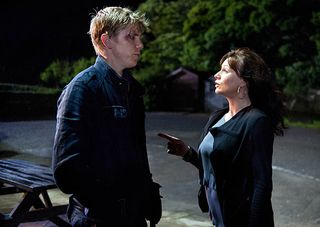 Robert has made more enemies than friends since he moved back to Emmerdale village last year. He betrayed his wife, Chrissie, by having an affair with gay mechanic, Aaron, tried to kill vet, Paddy, in a farm 'acciden' and blackmailed Cain over some incriminating photos. And that's just for starters!
But next week, it all kicks off in the village when Andy accidentally discovers Robert was responsible for the fatal fall which killed his wife, Katie, at Wylie's Farm earlier this year...
Robert is left beaten and bruised after a violent showdown with his angry brother, Andy. Will Andy report Robert to the police and see his hated brother sent to prison over the death of Katie? Or will Robert manage to talk his way out of trouble...again?!
Meanwhile, Chas learns the shock truth about her son Aaron's involvement in helping lover Robert cover up the crime scene following Katie's fatal fall at Wylie's Farm. Realising Aaron could be incriminated in the crime if Robert is arrested, a furious Chas warns Robert to leave the village...or else!
But it's too late! After a conversation with her brother, Cain, it's clear Chas is out for Robert's blood. As the pair stand arguing outside The Woolpack, a gunshot is heard and Robert collapses!
Chas is in a state of shock as Robert lies motionless on the ground. It's not long before Aaron and Dan (in a comedy wig he's wearing for Harriet's birthday party in The Woolpack) appear and start to try and save Robert's life.
Robert's younger sister Victoria and stepmum Diane fear the worst as they race out of the party at The Woolpack and see the shock scene before them. Will Robert survive?
With the ambulance on the way, everybody begins to wonder what happened? Who shot Robert? Does Chas hold the answers to what happened in the moments before the shooting?
Aaron is alarmed when he sees Chas's blood-stained hands from where Robert slumped into her as he collapsed to the ground. Chas has vowed to keep Aaron's involvement in Katie's death a secret. But how far will she go to protect him?
The paramedics arrive and start CPR on Robert...but it's not looking good. Meanwhile, more party-goers appear from The Woolpack and are alarmed at the village drama. Is the shooter still on the loose?
Robert has crossed so many people in the village, the police will have their work cut out trying to discover who shot him. But as the paramedics race against time to try and save him, the incident could become a murder investigation...
As Robert's life hangs in the balance, he is rushed to hospital for emergency surgery. Victoria and Diane keep an anxious vigil outside Robert's hospital room. But where are Andy and Chrissie? Could either of them had something to do with the shock shooting?
As Victoria and Diane fear vengeful Andy is behind the shooting, Robert flatlines during surgery!
It's a must-see week for Emmerdale...and everyone's a suspect, including Chrissie, Lachlan, Lawrence, Andy, Paddy and Aaron!
Watch the drama unfold on Emmerdale from Monday, September 21 on ITV
Get the What to Watch Newsletter
The latest updates, reviews and unmissable series to watch and more!