'Zak's kiss is a huge shock for Lisa!' reveals Emmerdale's Jane Cox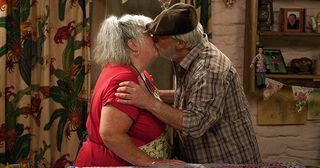 (Image credit: Andrew Boyce)
Zak kisses ex-wife Lisa! So, are they about to reunite in Emmerdale? Soaplife asks Jane Cox the question…
Life's no fun in Emmerdale when you're Lisa Dingle, betrayed ex-wife of Zak and desperate mother of schizophrenic Belle. But she's been keeping things together – until Zak kisses her!
Jane Cox talks about Lisa's confusion to Soaplife...
How is Lisa coping on her own? "She is trying to get on with her life and believes Zak [Steve Halliwell] is never coming back. She has moved on, but she does miss having somebody to share her life with."
So she wants another man? "I don't think she can be bothered with all that. She is doing this dating site thing that Liv [Isobel Steele] has set up, but that is more for a laugh and so that she doesn't upset Liv, who is being rather sweet to her."
Is she still worried about Belle? "Well, Belle [Eden Taylor-Draper] has told Lisa she doesn't hear the voices any more, but she walks in when Belle is talking to Chas [Lucy Pargeter]. She reveals that she is learning to cope with the voices. She is upset that Belle has confided in Chas rather than her."
Tell us about the kiss between Zak and Lisa... "Zak is back on home territory and feeling comfortable. He and Lisa have been as one, talking about Belle and preparing for her homecoming. Zak suddenly goes in for this kiss and it is a huge shock, really. I don't know if it is what she wanted, but there is definitely more to it than an unguarded moment."
Does Lisa feel guilty when she sees Joanie? "Joanie [Denise Black] asks Lisa round for tea and I think she does consider telling her about the kiss and she certainly goes out of her way to make Zak feel uncomfortable. But Joanie has gone to such an effort she thinks it would be too awful to bring the kiss up."
Will Zak and Lisa get back together? "I hope so, but you never know. She wants to get on with her life without any more complications and asks Zak to stay out of her way. But who knows what will happen?"
Emmerdale, ITV
Get the latest updates, reviews and unmissable series to watch and more!
Thank you for signing up to Whattowatch. You will receive a verification email shortly.
There was a problem. Please refresh the page and try again.