Killer exposed? Gabby Thomas takes on evil Emma!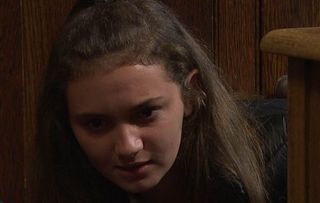 Emma's killer secret is in danger when Gabby Thomas returns from Australia and finds out the nurse has been terrorising her brother Arthur and stepmum Laurel
Emma's about to have a new enemy gunning for her. And that's Gabby Thomas who returns from Australia and learns, via her little brother Arthur, what's been going on with her family and the killer nurse. With that, Gabby decides she's going to take Emma down!
While Arthur worries about his sister's safety, Gabby blithely sets about spooking Emma. After a few pranks here and there, the teen is pretty pleased with herself. But Emma, who started out hoping James – her partner who she secretly pushed to his death – was sending her signs from beyond the grave, soon realises she's got someone on her case…
Will the killer mum work out Gabby is behind it all? And, if so, how will Emma react?
Gabby is back - and she's bad! After hearing what Emma has been up to, she sets out to spook the killer nurse…
Laurel welcomes home her stepdaughter Gabby who's been out in Australia.
Having heard what Emma has put Arthur and Laurel through, Gabby is organising revenge. But it's Laurel who gets the blame and a mouthful from Ross…
Emma, who's found religion since she secretly killed her partner James, is in church.
In the vestry, Gabby hides out and rolls out another plan to 'haunt' Emma…
Soon enough, Emma is suitably spooked…
As Gabby continues, will she take it too far and leave a clue which could lay herself bare?
Emma soon realises someone is messing with her. But will the killer nurse work out Gabby has been behind the pranks? Watch Emmerdale on ITV from Monday 25 September.
Get the latest updates, reviews and unmissable series to watch and more!
Thank you for signing up to Whattowatch. You will receive a verification email shortly.
There was a problem. Please refresh the page and try again.