The 15:17 to Paris - Sky Cinema Premiere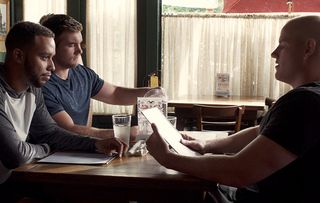 (Image credit: Courtesy of Warner Bros. Picture)
Director Clint Eastwood re-creates a real-life episode of bravery, the thwarting of a terrorist attack on board a train by three American tourists in 2015
Director Clint Eastwood re-creates a real-life episode of bravery, the thwarting of a terrorist attack on board a train by three American tourists in 2015.
In a fascinating gambit, the heroes – Spencer Stone, Alek Skarlatos and Anthony Sadler – play themselves.
Whether Eastwood and his untried cast pull it off is up to you. Truth be told, much of the film is dull, with Eastwood zigzagging back and forth between the exciting episode on the high-speed Amsterdam-Paris train on 21 August 2015 and humdrum scenes from the men's earlier lives.
We learn of their childhood friendship in Sacramento, California, service in the military for two of them, and the European backpacking trip that put them in the right place at the right time.
However, when it comes to the big moment, which is handled with real skill, the men's ordinariness makes their out-of-the-ordinary actions pack a punch.
Get the latest updates, reviews and unmissable series to watch and more!
Thank you for signing up to Whattowatch. You will receive a verification email shortly.
There was a problem. Please refresh the page and try again.