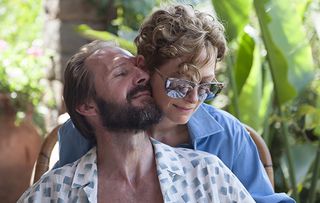 (Image credit: © Studio Canal 2016)
Tilda Swinton and Ralph Fiennes are on flamboyant, imperious form in this smouldering melodrama set in a sun-scorched villa on a volcanic Sicilian island
Tilda Swinton and Ralph Fiennes are on flamboyant, imperious form in this smouldering melodrama set in a sun-scorched villa on a volcanic Sicilian island.
Swinton is Marianne, a stadium rock star hiding out with her younger filmmaker partner Paul (Matthias Schoenaerts) while she recuperates from an operation on her vocal chords. And Fiennes is her former lover Harry, the brash, roiling, larger-than-life figure who invades her retreat, towing along his newly discovered American daughter Penelope (Dakota Johnson).
Soon enough, desires and jealousies are simmering in the Mediterranean haze.
The mood in this remake of a 1969 French film is one of eerie languor and sun-baked hedonism - which makes the disruptive energy provided by Fiennes' exuberant and garrulous interloper all the more startling.
Swinton makes a worthy foil, nearly mute for half the film but vitally expressive all the same.
Thank you for signing up to Whattowatch. You will receive a verification email shortly.
There was a problem. Please refresh the page and try again.