Andy can't face Katie's funeral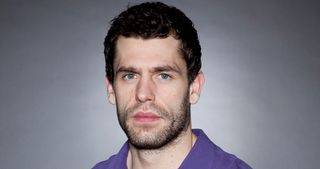 Still utterly heartbroken over his wife's death on top of the fact that he'd had a horrible row with her before Katie died, Andy feels he just can't cope with the funeral. Diane and Chas are shocked by his decision but can't change his mind. When Debbie's efforts fall flat, too, something seems to chime with Andy as once widowed Moira shares her experience of losing a loved one…
Having been sacked by Jai for being drunk on the job, Laurel heads to the factory to apologise. She's humiliated when her ex-boss escorts her from the building, and leaves the other workers stunned when the normally mellow mum snaps at them. Back at home, Laurel's grateful as Marlon offers support and cracks on with working out the family's finances now that one less wage is coming in. Determined to make a fresh start and get her act together, Laurel applies for a job at the college and is chuffed to bag an interview.
Noah's missing his mum, but Cain's idea to take the young lad to the prison to see Charity meets opposition from Debbie.
Get the latest updates, reviews and unmissable series to watch and more!
Thank you for signing up to Whattowatch. You will receive a verification email shortly.
There was a problem. Please refresh the page and try again.