Ash comes face to face with Robbo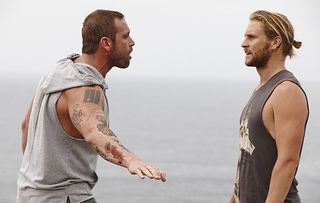 What will Ash do?
Ash and the River Boys chase after a wounded Robbo. The chase takes them past The Surf Club, knocking over Jennifer in the process. When Ash and the River Boys realise that the police aren't far behind them, they decide that it is best if Ash continues to chase down Robbo alone and the River Boys distract the police. Finally, Ash catches up to Robbo. Will he take his revenge?
Meanwhile, Jennifer and Hunter begin to talk about their kiss, but after Jennifer is knocked over by Ash and the River Boys, she's now more concerned about her painful shoulder! Later, Jennifer asks Hunter if he would like to finish a school project together. Hunter says yes and assumes it is Jennifer's way of asking him on a date - but has he jumped the gun?
Alf is a terrible patient and Tori is bearing the brunt of his bad temper. John comes to visit Alf and tells Tori that Ash has been arrested. Tori races to the police station to find out that Ash and Robbo are having five minutes alone. Ash listens to Robbo's back story of losing his family and it seems that he may be in a place to move on with his life. Afterwards, Tori has a one to one chat with Robbo who thanks Tori for her support and explains that he feels at peace with going to prison. However, when Tori gets home, Ash is waiting for her and wants answers…
Finally, Colby leaves the gym and runs into Dean and it is clear that these pair have history…
Get the latest updates, reviews and unmissable series to watch and more!
Thank you for signing up to Whattowatch. You will receive a verification email shortly.
There was a problem. Please refresh the page and try again.