Ayesha's brother is hiding a life-changing secret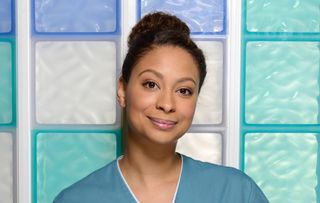 (Image credit: BBC)
Will Ayesha find out the truth?
Ayesha's excited to have her brother Karl back from the army. Full of pride, Ayesha introduces her brother to Emma and ropes in Sid to help make a "Welcome Home" meal. However, Ayesha discovers Karl is not his usual happy-go-lucky self and is determined to get to the bottom of his mood. What is Karl hiding?
Also, Mrs Tembe and Ruhma enjoy a lovely meal for two, but Mrs Tembe can't bring herself to open up about JJ. Mrs Tembe asks Ruhma for some vague relationship advice and finally talks openly about her relationship with JJ. Will Ruhma approve of Mrs Tembe's choice?
Tobi Oredein is an award-winning women's lifestyle journalist, media entrepreneur and international public speaker based in London, who focuses on race, feminism, beauty politics & popular culture. Tobi has been commissioned by Buzzfeed, British Glamour, Grazia, Elle UK, Fader, The Debrief, The Independent, The Pool, Stylist, Vice and others. She has also interviewed public figures such as Ryan Coogler, Ava Duvernay and Sir Trevor McDonald.
Thank you for signing up to Whattowatch. You will receive a verification email shortly.
There was a problem. Please refresh the page and try again.