Belle's in an awkward situation with Bailey and his wife!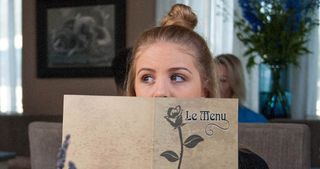 (Image credit: Andrew Boyce)
To apologise for all the trouble she's caused Lisa, Belle treats her mum to a meal out. But when they get to the restaurant, Belle finds herself in the middle of another Bailey-related nightmare as her married man lover is there with his wife!
While Moira and Cain are out, Holly looks after Kyle, desperately fighting the urge to take drugs. Soon enough, the babysitter is rifling through the bin where she threw her stash. When Holly finds it, she legs it outside with the goods leaving her stepbrother on his own. But when she tries to get back inside the house, Holly realises she's locked out! When Cain and Moira then return, Holly reckons she's blagged her way out of her predicament by claiming she was taking out the bins. But Cain wants to drug test her…
Ashley and Dan are hosting another poker night in Arthur's play pirate ship in the garden when Arthur crashes their party, with Amelia and April, in a bid to exorcise the place, Ghostbusters style! Will the kids keep the men's game secret from their partners?
Get the latest updates, reviews and unmissable series to watch and more!
Thank you for signing up to Whattowatch. You will receive a verification email shortly.
There was a problem. Please refresh the page and try again.