Will Billie get to the hospital in time?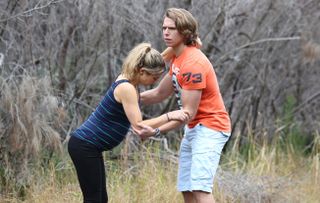 Or will VJ be forced to deliver the baby?
Billie and VJ begin to panic as her contractions get stronger, and VJ struggles to get a signal on his mobile phone. Things take a turn for the worse when the pair begins to smell smoke. In the distance, they see a rapid bushfire coming towards them. Will VJ be able to start the car?
Meanwhile, Tori struggles to stop Justin's blood loss as she helps him out of the warehouse. Weak and afraid his life is ending, Justin asks Tori to give a Phoebe a message. What does he want Phoebe to know?
Also, Kat stops the Summer Grooves festival and tells everyone to leave as a bushfire is heading in the direction of the festival. Will everyone make it out alive?
Tobi Oredein is an award-winning women's lifestyle journalist, media entrepreneur and international public speaker based in London, who focuses on race, feminism, beauty politics & popular culture. Tobi has been commissioned by Buzzfeed, British Glamour, Grazia, Elle UK, Fader, The Debrief, The Independent, The Pool, Stylist, Vice and others. She has also interviewed public figures such as Ryan Coogler, Ava Duvernay and Sir Trevor McDonald.
Thank you for signing up to Whattowatch. You will receive a verification email shortly.
There was a problem. Please refresh the page and try again.