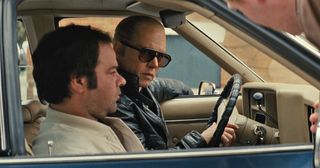 (Image credit: © Warner Brothers)
With thinning hair and reptilian skin, a virtually unrecognisable Johnny Depp plays notorious Irish-American mobster James 'Whitey' Bulger and delivers a soul-chilling study of evil
With thinning hair and reptilian skin, a virtually unrecognisable Johnny Depp plays notorious Irish-American mobster James 'Whitey' Bulger and delivers a soul-chilling study of evil.
Equally chilling, however, is the fact that Bulger's underworld dominance was enabled by a secret deal struck with the FBI, brokered by an ambitious federal agent (Joel Edgerton) with childhood ties to Bulger's family.
In a further stranger-than-fiction twist to this saga, while Bulger was bludgeoning his way to underworld power, his politician brother Billy - played in another unusual stroke of casting by Benedict Cumberbatch - was rising to become a Massachusetts state senator.
It's a riveting, twisting tale steered skilfully by director Scott Cooper and screenwriters Mark Mallouk and Jez Butterworth, adapting the book by Dick Lehr and Gerard O'Neill. Depp's performance blows us away, but he gets excellent support from Cumberbatch, Jesse Plemons and Rory Cochrane, as two of his mob underlings, and from Dakota Johnson, Julianne Nicholson and Juno Temple, as three women unfortunately entangled in his career.
Get the latest updates, reviews and unmissable series to watch and more!
Thank you for signing up to Whattowatch. You will receive a verification email shortly.
There was a problem. Please refresh the page and try again.