Cain gets hurt all over again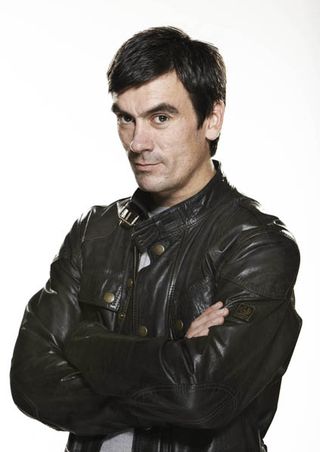 Someone did this to Cain and he lies in bed nursing the knowledge that someone hates him enough to want him dead. But who? Cain has said Jai did it and he's happy to hear Jai's up in court to face charges. But Charity is telling Debbie Jai had nothing to do with the attack on Cain. Desperate to save the man she truly loves, Charity goes to Cain and tells him she's left Jai - and that she'll be Cain's if he drops the charges against Jai. Whoa! Cain didn't see that coming! Alicia didn't see her break up with Andy coming and she's struggling to get over him; she can't handle him sleeping with his ex, but she can't handle living without him, either. David gently explains she has to move on and she's grateful for his support. He's doing a lot of supporting, isn't he? Nikhil, Amy, Val and Pollard, Alicia... Good job he's around as Ashley is no good at all to his parishioners these days. Hazel thinks Aaron needs her support but he's just irritated by her interference. Debbie sees what happens and points out that Hazel probably needs him more than he needs her... *Second episode* Cameron convinces Debbie he's staying in Emmerdale but Charity can't convince Cain she wants him. Cain knows Charity really loves Jai and is pained that she would pretend she wants him just to help Jai. That's not the worst of it, though. Desperate to clear Jai, Charity admits to Debbie and Chas that Jai was busy tampering with the brakes on Cain's car the night Cain was attacked. Chas and Charity get into a slanging match and Charity shoots from the lip, saying she found Cain the night he was attacked - and she left him on the road. What??? He could have died! Cain is devastated and Debbie and Chas are furious. Ashley's emotions are all over the place. He has lost all faith in Laurel since she confessed that she loved Marlon and fears Marlon still has a hold on his wife. With these thoughts running riot in his mind Ashley confronts Marlon - and quickly wishes he hadn't. There's an awkward atmosphere at the Pollards' home - and not because they're unhappy with their Christmas presents. Amy's decision about Kyle has caused a lot of tension...
Get the latest updates, reviews and unmissable series to watch and more!
Thank you for signing up to Whattowatch. You will receive a verification email shortly.
There was a problem. Please refresh the page and try again.