Cameron gets a little help in the Mr and Mrs contest!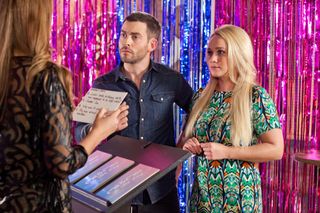 Cameron's nervous about the Mr and Mrs competition at The Dog, but Peri has a plan to help him. At the contest, Harry flies through the Team Starry questions, while Cameron is getting his answers from Peri through an earpiece. Unfortunately, when Alfie taps her on the shoulder outside The Dog, Peri drops the spy-kit in the river and Cameron has to answer the final question on his own. Cameron answers correctly, but Tegan knows he could only know the answer if he'd overheard a conversation between her and Leela the night before.
Later, Cameron visits a tied-up Lockie, telling him he needs to play by his rules. Lockie tries to make an escape...
Jason gives Holly an ultimatum – if she moves away to Uni then they're over. Jason takes Holly's phone and, struck by what Ellie recently told him about an ex cloning her phone, Jason decides to do the same to Holly's phone.
When Pete asks Cleo for money, she confides in Nathan, who purposely leaves The Dog till open for her to help herself. Cleo visits Pete - but it looks like he's succeeding in winning her back around.
Also, Tony suggests that he and Alfie should re-do the DNA test. Later, Tony breaks the news to Harry that his scholarship has been withdrawn because of his arrest. Tony blames Ste again, causing the rift between them to grow wider…
Get the latest updates, reviews and unmissable series to watch and more!
Thank you for signing up to Whattowatch. You will receive a verification email shortly.
There was a problem. Please refresh the page and try again.