Can Kat save Billie's life?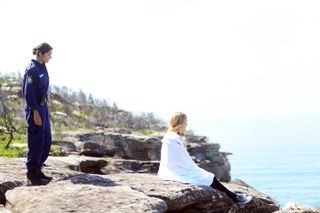 Phoebe and Kat are moving into the Farmhouse when Kat hears Billie is missing, then gets a radio call of a sighting of a young woman near a lighthouse. Meanwhile, Ricky's going through the post and discovers Billie's note. Just as she's about to open it, Ash and Phoebe barge in and Ricky drops everything and help look for Billie. When Kat arrives at the lighthouse, she sees Billie dangerously close to the mountain top and, as Kat pushes her out of the way, she puts herself in danger...
Charlotte and Andy head back to the Share House, where things get steamy. When Charlotte leaves, she forgets her purse and a baby picture falls out...
Denny encourages Hannah to use a dating app called Smouldr and, when she finds out Hannah has been talking to an attractive guy, she forces her to meet him. The pair hit it off and the next day, the new guy wakes up in Hannah's bed.
Get the latest updates, reviews and unmissable series to watch and more!
Thank you for signing up to Whattowatch. You will receive a verification email shortly.
There was a problem. Please refresh the page and try again.