Casualty spoilers: Alicia Munroe faces Eddie in court!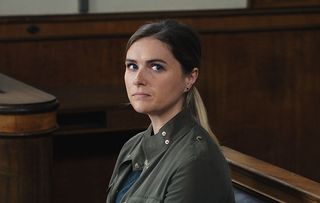 (Image credit: BBC)
Will Alicia's attacker plead guilty or not guilty in Casualty?
Battered and bruised after her recent ordeals doctor Alicia Munroe bravely returns to work at the ED. It's her first day back in scrubs since her colleague Eddie McAllister threw her through a glass door, having lost his temper after she reported him to the police for rape.
And while it's difficult to walk into the ED knowing everyone knows her innermost private business, Alicia's determined to start a new chapter of her life. There's just one problem, her first day back is the same day as Eddie's plea hearing for physically assaulting her and it's weighing heavily on her mind…
Clinical lead Connie Beauchamp (Amanda Mealing) shows Alicia her support by appointing her medical lead for the shift. Later, Alicia is given food for thought about her future while treating Luna, a young girl who needs a kidney transplant. Inspired by Luna's courage Alicia decides to face Eddie (Joe Gaminara) in court. And before he takes to the stand, Alicia lets Eddie know she's ready for a fight!
Will he plead guilty or not guilty?
Meanwhile, Alicia's closest friend, Ethan Hardy (George Rainsford) is slightly over protective and queries whether she should be working. Alicia finds his kindness somewhat irritating but manages to bite her lip, knowing he means well! Fortunately Alicia also has invaluable emotional support from nurse Duffy Fairhead (Cathy Shipton) while Connie Beauchamp helps her focus on her career.
Doctor Dylan Keogh finds himself growing closer to fellow recovering alcoholic Ciara Cassidy this week...
Feeling emotionally vulnerable after HR asks him to clear out his deceased ex-wife Sam Nicholls' locker, Dylan (Will Beck) turns to Ciara for support. When Dylan opens up about his complicated relationship with Sam, will he and Ciara become intimate in more ways than one?
Elsewhere, Rash and Gem are smitten kittens! With his parents out of town Rash invites Gem over for dinner, but will he manage to hide the fact he lives with his folks? It's a tough ask, given how many photos of Rash adorn the family home!
Also this week, nurse Jacob Masters and Dylan share a touching moment as they clear out Sam's locker together.
Nurse Louise Tyler's car has been repossessed due to non-payment of hospital parking fines. But Louise is more concerned about Dylan than the fact she has to get the bus to work.
Iain's suspension is on everyone's mind.
Duffy is feeling unsupported by Charlie, who keeps putting his job before their relationship. When Duffy runs into an old pal after attending a family party alone, she's quick to suggest they go for a drink…
And Connie's like a cat on a hot tin roof because the ED is due for a Care Quality Commission inspection. Jacob publicly objects when Connie tries to give everyone extra work tasks. Will she listen? Probably not…
Get the latest updates, reviews and unmissable series to watch and more!
Thank you for signing up to Whattowatch. You will receive a verification email shortly.
There was a problem. Please refresh the page and try again.