Charlie's in big trouble!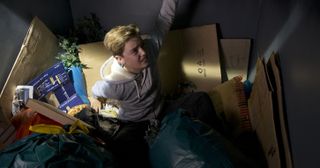 Archie traps Charlie in a dumpster in Neighbours!
When Archie taunts Jimmy about Amy, Charlie sticks up for his mate and insists Amy deserves to know but Jimmy's defensive – not wanting to add to her worries. Unable to agree, the two mates part ways. That's when Charlie has another run-in with Archie - who traps him in the dumpster.
Paige wakes after being knocked out and takes herself to the hospital. Getting the all clear, she's determined to get back in the ring and convinces Jack to give her lessons. As the pair box, their lust boils over and they nearly kiss - until Jack pulls away. Paige is beyond frustrated and seeks out Tyler who decides to go of it with Paige.
Paul's feeling confident about getting Lassiters back – that is until Terese announces she'll putting in a rival bid. Lucy's torn about who deserves the hotel but reveals she'll be supporting Terese's proposal as she's the best person for the job. Paul is furious but Terese is elated, as is Madison, who'll be going to New York with Lucy as Terese's representative.
Get the latest updates, reviews and unmissable series to watch and more!
Thank you for signing up to Whattowatch. You will receive a verification email shortly.
There was a problem. Please refresh the page and try again.