Cleo spots Nathan and Holly looking cosy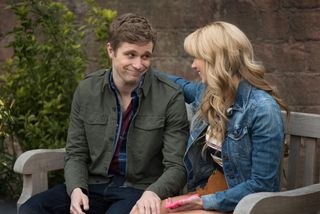 An angry Nathan wants Cleo to face justice and nearly breaks down the McQueens' door trying to get to her. Cleo runs straight into Pete's arms and she's furious when she sees Nathan and Holly looking cosy and decides to tell the truth about who was driving the night Rachel died. Cleo wants to tell DS Thorpe that Holly was the driver – but DS Thorpe tells Cleo that Holly will get little more than community service because she wasn't the one drinking, Cleo knows she's stuck with the lie forever. Later, Myra and Celine decide to have a boozy girls' night in to put a smile on Cleo's face - but when Cleo goes outside for some fresh air, Nathan kidnaps her!
Leela has already got two customers for her cleaning business – The Dog and Simone Loveday. Leela's persuaded to let Ste help her but it seems he's got ulterior motives when he lets Harry into The Dog flat to have a shower. Leela asks Ste to do the Lovedays' flat on his own. He knows they're away overnight so, when he gets a call from Amy asking him to look after the kids, he decides to stay the night in the Lovedays' flat.
Freddie tells Marnie he wants her, not Ellie. As he leans in for a kiss, Darren takes a photo – it's all a set up. Freddie's delighted when he then spots Marnie and Mac having a tender moment... this is more ammunition to silence her with.
Also, Lindsey tells Kim to meet her with money and medical supplies if she ever wants to see Kath again. After some words from Esther, Kim decides to tell the police – but can she really risk losing Kath?
Get the latest updates, reviews and unmissable series to watch and more!
Thank you for signing up to Whattowatch. You will receive a verification email shortly.
There was a problem. Please refresh the page and try again.