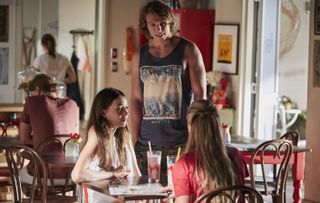 Will Coco's crush land her in hot water?
Coco tells Raffy about her argument with Ziggy and how Ziggy said she's boring. Coco starts getting upset and tells Raffy that Ziggy is right. Raffy comforts her friend and comes up with a plan to put a smile on her face and it involves VJ…
Meanwhile, Scarlett returns Justin's car and he assures her that she's in the clear. Afterwards, Justin asks Scarlett if she wants company tomorrow as it's the anniversary of her son's death, but she declines. Not one to give up, the next day, Justin visits Scarlett, but she pushes him away. Later, he finds her drowning her sorrows at Salt. The next morning, Scarlett wakes up naked and in someone else's bed... and is stunned to see Justin in his shorts! Did the pair sleep together?
Also, Peggy reveals that she thinks Hunter's father is a friend of his grandfather's friend. Peggy starts to tell Hunter about his father, but Hunter is livid to find out Charlotte slept with a married man. Peggy tells him to look past people's imperfections and get in contact. Will Hunter take her advice?
Get the latest updates, reviews and unmissable series to watch and more!
Tobi Oredein is an award-winning women's lifestyle journalist, media entrepreneur and international public speaker based in London, who focuses on race, feminism, beauty politics & popular culture. Tobi has been commissioned by Buzzfeed, British Glamour, Grazia, Elle UK, Fader, The Debrief, The Independent, The Pool, Stylist, Vice and others. She has also interviewed public figures such as Ryan Coogler, Ava Duvernay and Sir Trevor McDonald.
Thank you for signing up to Whattowatch. You will receive a verification email shortly.
There was a problem. Please refresh the page and try again.