Coronation Street spoilers: Tracy Barlow and Leanne square up!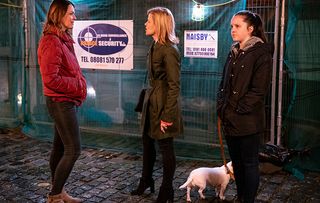 Leanne leaps to Simon's defence when Tracy Barlow accuses him of being the father of Amy's baby.
Leanne interrogates Simon over Amy's pregnancy but he assure her it's nothing to do with him. Does Leanne believe him? As Amy refuses to reveal who the daddy is, Tracy Barlow points the finger at Simon. However, Leanne leaps to his defence and whilst the woman trade insults, Amy rushes off in tears.
Sarah's furious to find Gary in the pub discussing a building job in Qatar with Joe. Nicola backs Sarah up, reminding Gary of her offer to stop paying her maintenance until he's back on his feet.
This is news to Sarah who hits the bar, downing shots with the girls in the hope of forgetting her troubles. When Adam suggests a nightcap back at his flat, Sarah accepts, keen to avoid Gary. Will the pair get hot and heavy in the bedroom?
As Peter works on his boat, Abi stops and flirts with him.
When Evelyn reveals she's going away for a few days, Tyrone's concerned and decides to follow her. After watching her knock on the door of a house and be let in by a man in a wheelchair, Tyrone confronts Evelyn and demands to know what's going on.
Roy returns home and tells Carla that he was too late, by the time he got to Hastings Sylvia had died. Carla's heart breaks for him.
Coronation Street continues at 8.30pm.
Get the latest updates, reviews and unmissable series to watch and more!
Thank you for signing up to Whattowatch. You will receive a verification email shortly.
There was a problem. Please refresh the page and try again.