Daniel proposes to Imogen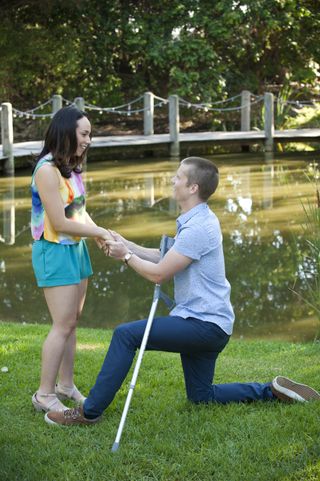 Naomi asks Imogen to come and work in LA and, when Daniel tells her he'll go with her, she's delighted and immediately starts to worry how he'll get a working visa. Weighing up all the options, Daniel makes a romantic proposal and Imogen accepts.
Amy vents to Tyler that Kyle only offered to sell her the yard cheap to make himself feel better about leaving. But when Tyler makes her realise she deserves a break, she decides to stay in Erinsborough and make the yard her own - 'The Handywoman' is born.
Paige takes photos of the area to jog John's memory but, when it doesn't work, John tries to push her away, claiming that if no-one is looking for him he can't be a very nice person. But Paige refuses to abandon him – she's sure he's a good guy.
Julie insists Terese take bereavement leave, but without the crutch of work she starts to drink. Meanwhile, Sarah tells Toadie she needs to gain Susan's trust. When Terese realises Sarah's taking over her job while she's on leave, she explains she has a long way to go to win anybody over.
Get the latest updates, reviews and unmissable series to watch and more!
Thank you for signing up to Whattowatch. You will receive a verification email shortly.
There was a problem. Please refresh the page and try again.