Diane and Tegan come to blows!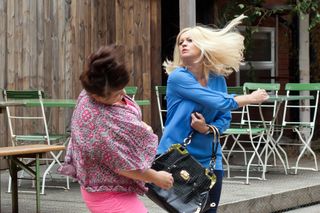 Tegan is released from prison and goes to Diane's to see Rose but they push her out. Tegan tells Scott to bring Rose to her or she will reveal he was part of the kidnap too. Later, Diane busts Scott trying to sneak Rose out of the house but he covers by telling his aunt that Tegan threatened him. Diane confronts Tegan, who tells her the truth but, when it falls on deaf ears, Tegan launches herself at Diane, who then fights back!
Leela and Scott race to split them up but, in the scuffle, the contents of Diane's handbag are strewn everywhere and Tegan notices her bottle of vitamins. Following the incident, Diane tells Scott he has a month to find a new home. Later, Diane is in bits and, in the heat of the moment, kisses Tony but then pushes him away. Rejected, he observes Diane's vitamin tablets. We then see a shadow replace Diane's tablets with an identical tub, then Diane takes two – but who has tampered with them and with what?
Tom tells Cameron to sabotage Angela Brown's visit with Peri or he'll tell Peri about Sam and Danny. As Cameron attempts to paint Angela in a bad light, it looks as if he's convinced Peri when she spots a book of girl names in Angela's bag and it dawns on Peri the baby is a girl. Peri looks distraught but, as The Browns were hoping for a girl, Peri feels even more strongly about giving her baby to them. Cameron vows to stand by whatever Peri decides and tells Tom he won't jeopodise Peri's happiness – will Tom uphold his threat?
Also, Ste tells Sinead the condom split and that she needs to get a HIV test. Sinead gets Harry to cover at The Hutch while she and Ste go to the hospital. Later, Harry lets it slip to Tony that Ste and Sinead are at the hospital. As Sinead is prescribed with PEP pills, Tony turns up at the hospital and is insensitive about Ste and Sinead's relationship. Later, Harry finds Ste upset at the folly. They kiss but Ste pushes Harry away, telling him he loves Sinead.
Get the latest updates, reviews and unmissable series to watch and more!
Thank you for signing up to Whattowatch. You will receive a verification email shortly.
There was a problem. Please refresh the page and try again.