Disaster strikes for Darren and Nancy!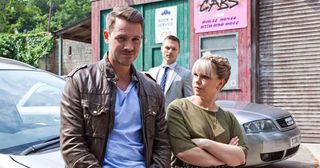 Darren and Nancy are plotting at the garage and, when they leaves, something goes horribly wrong...
Darren wants Grace's help to get rid of Warren when it's revealed Warren is the new owner of the garage. Nancy and Darren are up to something outside the garage and are startled when DS Armstrong arrives. It turns out Grace has given Darren a gun to plant on Warren.
Meanwhile, with John Paul already fed up with living in Diego's van, Scott sets up a flat viewing, but James also asks John Paul to meet some of his clients at the same time. As John Paul can't resist when James kisses him, Scott is waiting patiently for John Paul.
After sleeping with James, however, John Paul realises he has to break up with Scott and heads to the camper van. At that moment, Nancy and Darren are fleeing the garage when they're involved in a car accident – it's John Paul who's knocked over by them while trying to save Scott.
Simone invites Sonia over to celebrate Zack's A-Level results. Lisa's still determined to save Sonia the pig and stops the abattoir from collecting her, while Zack sets the pig free. The pig, however, heads straight for Price Slice and causes havoc!
Also, Ryan understands Ste's concerns, but Ste's upset to hear Leah say she doesn't want to live near him. Ste goes to a narcotics support meeting – but is alarmed to see Warren there too!
Get the latest updates, reviews and unmissable series to watch and more!
Thank you for signing up to Whattowatch. You will receive a verification email shortly.
There was a problem. Please refresh the page and try again.