Doctors spoilers: Al Haskey and Valerie Pitman compete in Ramadan challenge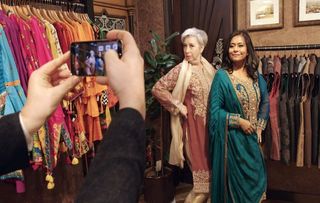 Al and Valerie decide to help their colleague Ruhma through the last day of Ramadan by fasting too. But things soon get competitive!
It is the last day of Ramadan and midwife Ruhma Carter is really struggling to keep fasting until the very end. So, in a show of solidarity, both receptionist Valerie Pitman and doctor Al Haskey offer to fast for the day too for moral support. Plus, Al secretly thinks if Valerie can do it, so can he!
However, overconfident Al is soon struggling as he has both coffee and nicotine withdrawal symptoms and is hit by headaches.
Ruhma advises Al to drink some water and take some aspirin. But he refuses to eat or drink anything and let Valerie beat him in the Ramadan challenge! How is Valerie managing to breeze through the day and not even appear hungry?
Meanwhile, Emma Reid is not happy about being stuck with temporary Practice Manager Su 'without an e' Turtle at both work AND home. But could it be that frosty surgery boss Zara Carmichael is starting to warm to Su's ways, leaving Emma both irritated and jealous!
Elsewhere, nurse Ayesha Lee is out and about in Letherbridge helping charity workers Mansoor Khan and his wife Sandra collect door-to-door donations to help refugees.
But Ayesha is left annoyed when she clashes with a hostile carer, Beth Stiles, who makes it clear charity begins at home and she has no intention of helping those who live abroad.
Doctors continues weekdays at 1:45pm on BBC One
Get the latest updates, reviews and unmissable series to watch and more!
Thank you for signing up to Whattowatch. You will receive a verification email shortly.
There was a problem. Please refresh the page and try again.