Doctors spoilers: Al Haskey investigates a case of possible child abuse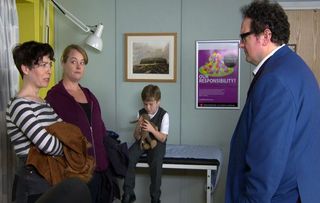 Al and Ayesha face the dilemma of whether to involve Social Services, when they start to suspect a young boy is at risk of harm...
Dr Al Haskey and nurse Ayesha Lee face a dilemma over what to do, after a six-year-old boy, Mikey Taylor-Wood, is brought into The Mill for treatment by his parents, and the medics notice some serious injuries on the boy's body...
The trouble begins earlier in the day when parents Jadie and Beth Taylor-Wood take their son Mikey to the local park, where he manages to fall off a climbing frame and hurt himself. Later, the boy cuts his hand on a broken metal fence when he tries to reach an abandoned ball.
However, when Mikey is examined by Al and Ayesha at the surgery, they notice further bruising on the boy's body. And Ayesha remembers Mikey was previously brought in with a broken arm. Is Mikey just unlucky or is there something more serious going on? Should Al and Ayesha call Social Services?
Elsewhere in Letherbridge, there's some exciting news for surgery practice manager Becky Clarke, when she hears her boyfriend Tam Campbell has lost his job and decided to move down from Scotland. After five years, the couple can finally live together!
Meanwhile, Jimmi Clay is called to the Churchill Estate after Jean Parr finds the dead body of her friend and neighbour, Nigel.
Jimmi discovers Nigel had angina and appears to have died peacefully in his sleep. However, Jean has a darker tale to tell, as she reveals Nigel had been falsely accused of being a sex offender and was repeatedly threatened on the street.
Could Nigel's death somehow be connected to the rumours of a vigilante group on the Estate?
Doctors continues weekdays at 1:45pm on BBC One
Get the latest updates, reviews and unmissable series to watch and more!
Thank you for signing up to Whattowatch. You will receive a verification email shortly.
There was a problem. Please refresh the page and try again.