Doctors spoilers: Jimmi Clay has a disaster day in court!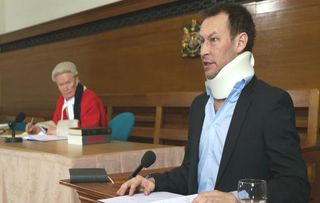 Jimmi's neck brace brings him bad luck when he clashes with snooty Judge David Tennyson and is threatened with contempt of court!
Dr Jimmi Clay has had to swallow his pride and wear a neck brace for his bad neck. However, he's not sure if the neck brace will make the infamous Judge David Tennyson go easier... or harder on him in court.
Due to give evidence in court about a drink-driving case he worked on as a forensic medical examiner, Jimmi immediately begins to clash with Tennyson, who doesn't think some of the evidence Jimmi is giving is relevant.
When the judge then suggests Jimmi is making excuses for the defendant's behaviour, Jimmi interrupts him, only to be threatened with contempt of court!
Meanwhile, at The Mill, Ayesha Lee's frustrations continue to grow when it appears the rest of the staff are seemingly ungrateful for all the hard work the nurses do.
But she finds a friend in midwife Ruhma Carter who shares her pain over the way things are at the surgery.
And Ruhma has dramas of her own to deal with, when she gets caught in the middle of a family fallout.
She meets heavily pregnant Marie Hammett, who is acting as a surrogate for Jules Dean and her husband David, who died recently.
But since David's death, Jules has changed her mind and no longer wants the baby, leaving Marie in a terrible predicament over whether to keep a baby she wasn't planning to bond with.
Doctors continues weekdays at 1:45pm on BBC One
Get the latest updates, reviews and unmissable series to watch and more!
Thank you for signing up to Whattowatch. You will receive a verification email shortly.
There was a problem. Please refresh the page and try again.