Doctors spoilers: Sid Vere meets his long-lost brother Laurence!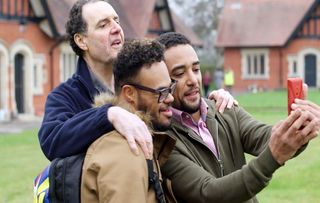 Sid joins his dad Tye to go undercover as a volunteer gardener at a residential home, where he comes face-to-face with his brother, Laurence!
Sid Vere is still reeling from the discovery his dad Tye has secretly tracked down Sid's long-lost brother, Laurence, who was originally abandoned by Tye and his wife Estelle soon after his birth.
Sid's not sure how he feels about Tye working as a volunteer at the residential home where Laurence now lives, in order to meet him. Especially as Tye is posing as a friend and has yet to tell Laurence he is really his birth dad!
However, Sid's curiosity gets the better of him. So he joins Tye to work as a volunteer gardener for the day. While the pair get to work around the grounds, Laurence, who has Down's syndrome, returns home and comes over to greet Tye.
Tye introduces Sid and the three of them enjoy spending some time together. But when will it be the right time for Sid to tell Laurence who he really is?
Meanwhile, having got to know Daniel Granger better during the forest bathing session, Becky Clarke agrees to step in when Daniel needs a last-minute childminder for his son, Joe.
Becky and Joe have a great time together. But things get a bit awkward when Daniel returns home and Joe innocently asks if Becky can sleepover!
Meanwhile, as nurse Ayesha Lee continues her training course at university she finds herself paired with a flustered student, Lorna Howes, who is late to the lecture after dropping her son off at school.
But when Lorna seems to space out and gets confused about the role-play assignment they have been given, Ayesha begins to worry that something is wrong with her...
Doctors continues weekdays at 1:45pm on BBC One
Get the latest updates, reviews and unmissable series to watch and more!
Thank you for signing up to Whattowatch. You will receive a verification email shortly.
There was a problem. Please refresh the page and try again.