Doctors spoilers: Valerie Pitman encounters a flasher!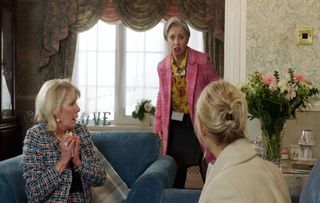 Surgery receptionist Valerie certainly gets an eyeful during a home visit when a mystery man flashes his private parts at her!
Now that surgery practice manager Becky Clarke has been in the job for a while, Dr Emma Reid reckons it would be a good idea for her to accompany receptionist Valerie Pitman on some VPAS visits so she can find out more about the day-to-day duties of the surgery staff.
First stop is to see Brian Essop, who has a pulmonary condition, but clearly isn't looking after himself. Becky spots some bruising on Brian's body, and Valerie is not impressed when he lights up a cigarette.
But things take an alarming turn when the ladies visit Marie Rosco. While Becky is questioning Marie about her bad experiences with the male doctors at The Mill, there's a knock at the door. When Valerie answers it, a mystery man flashes his bits at her. What a fright for poor Val!
Finally, the pair visit Zac Landers, who has Asperger's syndrome. But things are not what they seem when 'Zac' is found hiding behind the sofa by Valerie, only for Becky to go upstairs and encounter the real Zac who is hiding from a burglar downstairs!
Is there danger in store for Becky and Valerie?
Doctors continues weekdays at 1:45pm on BBC One
Get the latest updates, reviews and unmissable series to watch and more!
Thank you for signing up to Whattowatch. You will receive a verification email shortly.
There was a problem. Please refresh the page and try again.