Doctors spoilers: WHO is Becky Clarke's temporary replacement at The Mill?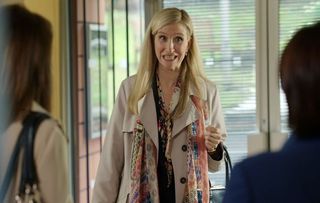 The surgery staff are in for a shock when a familiar face returns to The Mill to cover Becky's job... it's Su 'without an E' Turtle!
Last week, surgery practice manager Becky Clarke surprised bosses Daniel Granger and Zara Carmichael with the news she would be taking leave for a few weeks to go and look after her grandmother who is ill.
Zara is not happy about the inconvenience but Daniel is secretly pleased since there's less chance of Becky confessing to his estranged wife Zara that the pair of them hooked-up after attending a charity event together!
But Zara's mood doesn't improve when the temporary practice manager reports for duty and turns out to be the rather lively Su 'without an E' Turtle ,who was last seen taking the staff for a training course in April 2018.
It's not long before Su is getting on both Zara and Dr Emma Reid's nerves with her constant questions and unwanted advice giving.
At the end of the working day, Emma cannot wait to get home and escape from Su. But the medic is in for a surprise when the doorbell rings and her latest HomeBNB guest arrives. WHO do you think it is?
Elsewhere, Ruhma Carter is worried when her son Shak reveals he is doing a summer work placement with the police.
Ruhma reminds Shak of last year's nightmare when he was the prime suspect in the unsolved hit-and-run attack on Shak's teenage sister Alia Hanif's sleazy boyfriend, Tariq Amiri - and the police wanted to put him in prison!
Will Ruhma convince Shak to drop out of the work placement?
Meanwhile, with the Muslim religious festival Eid approaching, surgery receptionist Karen Hollins meets up with her Muslim friend, Bahija Nooani for some Lebanese cooking lessons so she can surprise her policeman husband, Rob.
But Karen finds herself caught up in a family fallout when she witnesses Bahija's husband, Khalil, being attacked by Bahija's angry brother, Tahir, followed by accusations about missing family money! What's going on?
Doctors continues weekdays at 1:45pm on BBC One
Get the latest updates, reviews and unmissable series to watch and more!
Thank you for signing up to Whattowatch. You will receive a verification email shortly.
There was a problem. Please refresh the page and try again.