Dom's still reeling from Lee's attack!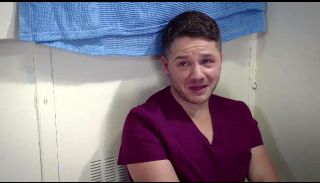 When Ric Griffin's gym buddy, Kit McNeil, collapses and Ric brings him to Holby, Dr Dominic Copeland helps treat him. Kit hates being in hospital though and, when he becomes aggressive, his behaviour clearly leaves Dom rattled and it seems Dom's still traumatised from the time he was attacked by ex-lover Lee. Ric realises Dom's still troubled by the incident and urges him to take time off but Dom insists he's fine. When Dom fails to join Ric in theatre, however, Ric finds him hiding away in tears and says he mustn't let Lee win!
Ric, who was also injured during Lee's attack, seems to be struggling too. When new surgeon Bernie Wolfe defies orders and operates on his other patient, Sinclair Sheridan, Ric reminds her he's in charge. But when Sinclair takes a turn for the worse and Ric fears he can't save him – just like he couldn't protect Dom from Lee – it seems he might be losing control…
Meanwhile, Mo's suitably disappointed when she realises she failed to win the role of Consultant on Darwin. Mo soon finds out she's been pipped to the post by revered surgeon, Sir Dennis Hopkins-Clarke, an old acquaintance of Jac's, and her annoyance turns to anger when she discovers Jac has a vested interest in hiring him…
Also, Serena's blissfully happy with new love Robbie and is enjoying their every moment together. But when nephew Jason turns up unannounced again, Serena starts feeling the pressure to introduce Robbie to her wider family and fears the cosy dynamic could be about to change…
Get the latest updates, reviews and unmissable series to watch and more!
Thank you for signing up to Whattowatch. You will receive a verification email shortly.
There was a problem. Please refresh the page and try again.